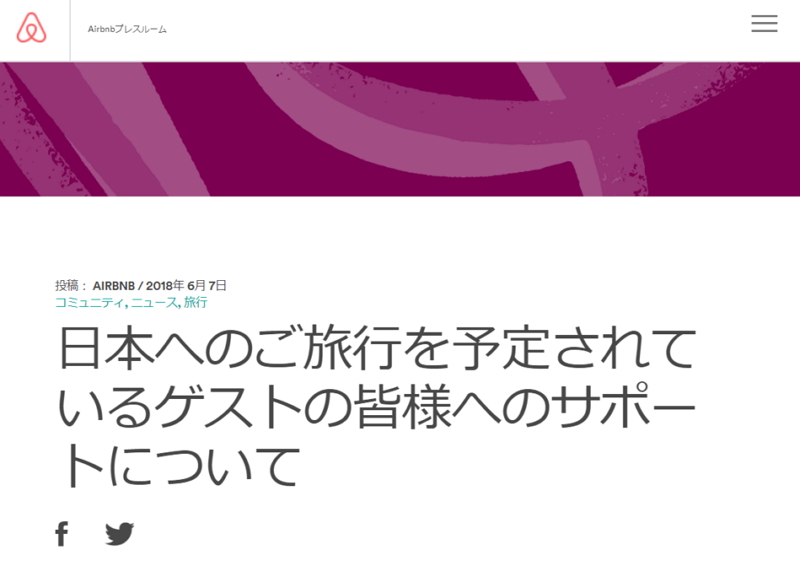 Airbnb Japan announced its new support service for guests staying in its listings in Japan, according to the Japan Tourism Agency (JTA)'s notification that a guest who does not complete registration of its property as a private accommodation even after enforcement of the private accommodation law on June 15 2018 must cancel a booking even through a booking is confirmed.
An Airbnb host must cancel bookings in the period from June 15 to 19 2018 unless he or she registers his or her property as a private accommodation to JTA as of June 7 2018. After June 15 2018, bookings for listings without registrations will be cancelled automatically 10 days before check-in, and in that case, Airbnb will guarantee full repayment and also offer a coupon for next stay in an Airbnb listing and a coupon (equivalent to $100) for a Trips experience program to a cancelled guest.
Airbnb has opened a 24-hours customer support for e-mail responses. When a cancelled guest cannot find an alternative listing on Airbnb, Airbnb will support him or her to find an alternative hotel on JTB 'JAPANiCAN.' 
In addition, Airbnb has launched a $10 million fund to support a guest, who is forced to change a travel plan with cancellation of an Airbnb booking. Additional expenses with a reasonable reason will be compensated if documents necessary for the compensation, such as a booking receipt, can be submitted. 
Airbnb had discussed with JTA for the cancellation issue, however the JTA's basic direction has not changed. Airbnb is forced to make a decision for the compensation supports.