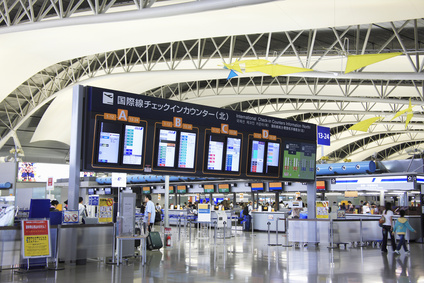 Kansai International Airport (KIX) handled record-high 6.99 million foreign passengers in FY2014 ending March 31 2015, which outnumbered Japanese passengers for the first time in its history. The annual total reached 20 million passengers, which were the second most in its history and the first over 20 million since FY2000.
International flight passengers were up 12% year-on-year to record-high 13.52 million, out of which Japanese passengers were down 7% to 6.3 million, while foreign passengers were up 41% to record-high 6.99 million, breaking the previous record for three years in a row. Domestic flight passengers increased by 7% to 6.53 million, resulting in year-on-year growths for three consecutive years.
Aircraft movements totaled record-high 145,000 (+9%), which consisted of 95,000 for international flights (+10%) and 50,000 for domestic flights (+6%). Out of the total of aircraft movements for international flights, those for passenger flights were up 11% to record-high 79,000, breaking the previous records for four years in a row.
Itami Airport dedicated for domestic flights, which also is managed by New Kansai International, Airport Co., increased passengers by 4% to 14.62 million on 139,000 aircraft movements.
In Japanese