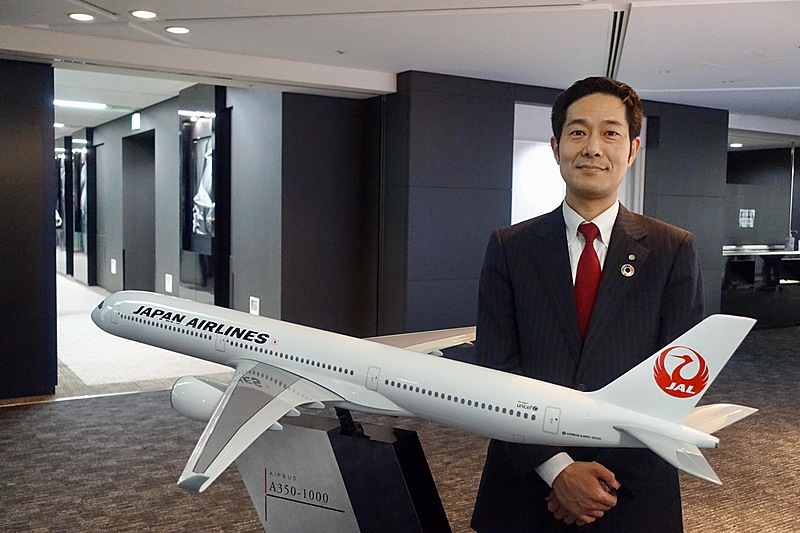 JAL launched 'JAL VISION 2030' in May 2021, for which it drew up the FY2021-FY2025 midterm management plan with three pillars of 'Business Strategy,' 'Finance Strategy' and 'ESG Strategy.'
JAL has addressed its CSR activities for a sustainable growth even before its bankruptcy in 2010. Then, JAL has decided to upgrade them to ESG Strategy as COVID-19 hit the airline. "Amid much lower flight demand than we expected, we have rethought what we should do as JAL Group," Kazuya Kameyama, Director ESG Promotion Department at JAL, said. "CO2 emission is our fate in terms of carrying people and goods. For the future growth, zero emission cannot be separated from our businesses."
For ESG Strategy, JAL has summarized 22 issues and about 180 challenges in 'Environment,' 'People,' 'Local community' and 'Governance.' Environment is broken down into five themes of 'Response to climate change,' 'Effective usage of limited resources,' 'Reduction of noise,' 'Prevention from environmental contamination' and 'Preservation of animal diversity.'
'Three arrows' for CO2 reduction efforts
Among thee five themes, JAL is particularly focusing on response to climate change under the midterm management plan.
JAL estimated that it currently emits CO2 of about 9.09 million tons a year in aircraft operations (Scope 1) and CO2 of about 57,000 tons in the ground operations (Scope 2). Without any actions, the amount is forecasted to increase about 12 million tons in total by 2050.
JAL drew up a roadmap to reduce CO2 by about 500,000 tons by FY2025, about 2 million tons or 90% of the FY2019 level by FY2030 and ultimately practical zero emission in FY2050.
Toward the goals, JAL is addressing 'three arrows' of upgrading to fuel-efficient aircraft (50% contribution), reducing in daily operations (5% contribution) and using SAF (45% contribution).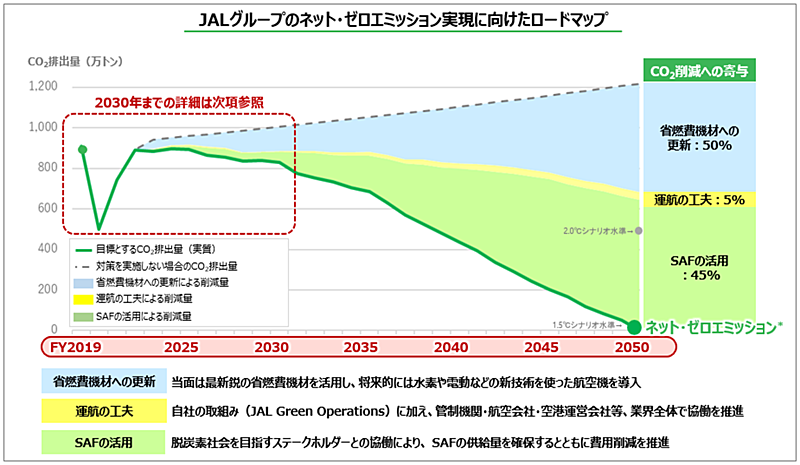 JALネットゼロエミッションへの道(報道資料より)
Increasing SAF distribution to 10% in FY2030
Although SAF or sustainable aviation fuel is regarded as a promising solution, the distribution amount is currently limited to less than 1% of the total. JAL is ambitious to increase the ratio to 1% of the total by FY2025 and 10% by FY2030, but it is true that the future is not clear yet.
JAL invested in Fulcrum BioEnergy with Marubeni jointly develop SAF for the aviation sector. Fulcrum in California is a specialist to transforming municipal solid wastes including plastics into SAF. In January 2019, JAL succeeded in operating a scheduled flight with SAF loaded from San Francisco to Haneda.
Kameyama said, "If transformation from municipal solid wastes as well as food oil is going to scale up and to be more adopted commercially, then it may be possible for us to achieve the goal of 10% in 2030."
In December 2021, oneworld, including JAL, decided to purchase 50 million gallons of blended sustainable aviation fuel from Aemetis for their operations at San Francisco International Airport.
Despite a variety of efforts, SAF will not be enough by any means to zero emission.
What is Japan's SAF strategy going on ?
Japanese airlines will rely on import to purchase SAF for a while, though New Energy and Industrial Technology Development Organization (NEDO) and private manufacturers are devoted themselves into development of made-in-Japan SAF. Even though made-in-Japan SAF can be distributed, it is not realistic that Japanese airlines will stop importing SAF. "SAF is a sort of national economic security," Kameyama said.
Supposing that Japan fails to establish a SAF refueling system, and airlines operating kerosene flights pay a kind of penalty, it is probable for European or U.S. airlines to withdraw from Japan routes to avoid extra costs. It will possibly happen on cargo flights.
It is a bad scenario for Japan, deteriorating Japan's international competitiveness. To popularize SAF socially, establishments of a supply chain and an international certificate framework will also be required. Kameyama said, "JAL is actively committed to them."
JAL and ANA announced in October 2021 a a joint report "Toward Virtually Zero CO2 Emissions from Air Transport in 2050," with the aim of expanding awareness and promoting understanding of SAF.