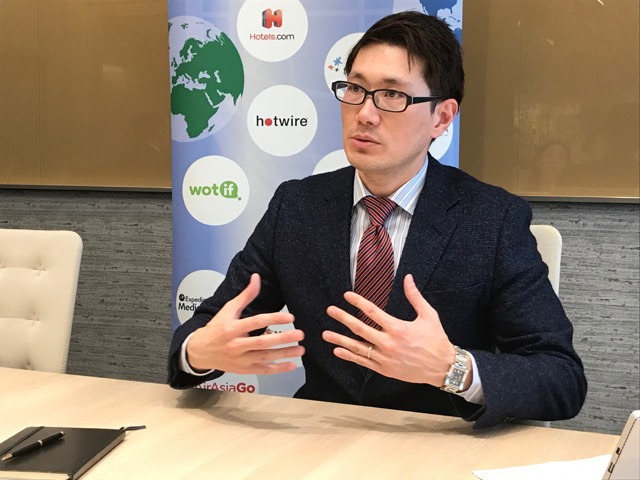 Michael Dykes, Director, Market Management - Japan & Micronesia at Expedia Holdings KK, talked about its lodging partner strategy in Japan at an interview with the Travel Voice. "Japan is still a market Expedia focuses on for its investment strategy. Regardless of Tokyo Olympics and Paralympics in 2020, the inbound travel market will keep growing," Dykes said.
Japan-based Expedia Holdings, which has a responsibility to make partnerships with lodgings in Japan for all of the Expedia brands, has extended its business network in Japan to six cities and doubled staff in 2016, particularly focusing on an increase in ryokan inventory.
As a result of the year-round survey on ryokan, Japan's unique lodging property, Expedia Group launched a star-rating system exclusively for ryokan because the traditional star-rating system for hotel is not applicable to the unique lodging. Also, based on the survey result and the accumulated big data, Expedia Group proposes separation of lodging from meals as a tool to make partnerships.
"The survey results also find that the conversion rate for a ryokan with meal photos on the site rose," Dykes said. "Photos are important especially for travelers from Asia to choose a ryokan." According to the good example in Japan, Expedia Group has started listing meal photos even on lodgings in other countries, such as auberge in France.
Dykes analyzed that the improvement of the booking site may partially result in a large increase in international visitors to local cities in Japan, like 160% up in Hakodate or 100% up in Kyushu in 3Q of 2016 on a year-on-year basis.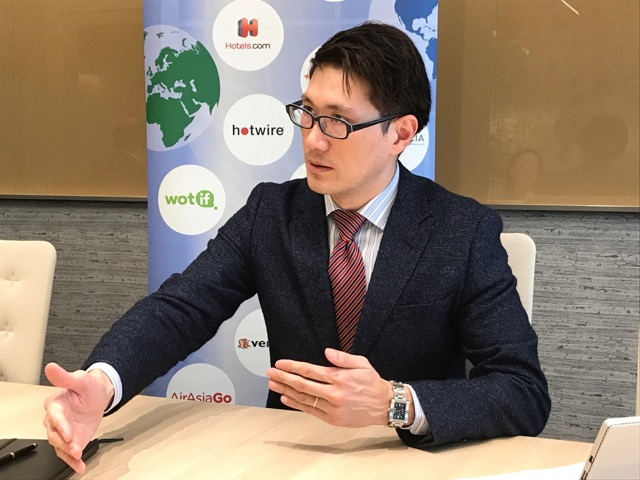 By international market, it is noteworthy that Australia was the fifth largest market in 3Q of 2016. Dykes explained that Wotif, one of the Expedia brands, played an important role because the OTA is very familiar in Australia and New Zealand, emphasizing the strength of the Expedia Group's multi-brands strategy. "A brand suitable for everybody no longer exists. Consumers' tastes fragment today,' Dykes said.
Expedia Group will begin offering REV PLUS, a digital consultation tool, to partner lodgings without any charges in early 2017. The tool combined AI and big data is expected to help lodging partners decide best prices. Dykes said with his confidence, "It is possible with enormous big date of Expedia. It is unrivaled."
There are about 36,000 lodging properties in Japan today. Dykes said, "We have more lodging partners in major cities than before, however we are still challenging to increase partners in local regions. Our immediate goal is 10,000 contracts in total. Compared to October 2015, when I took office as Director, contracted partners double or more. We are focusing on increasing new contracted partners."