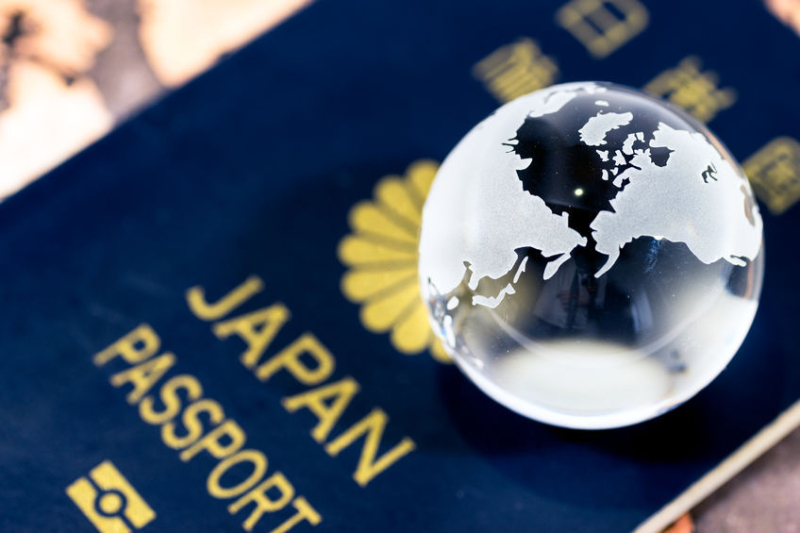 JTB has forecasted that Japanese travelers are expected to reach record-high 24.4 million in total in this coming Golden Week holiday period between April 25 and May 5. The expected total consists of 585,000 overseas travelers (+0.7%) and 23.8 million domestic travelers (+1%).
Travel consumption is expected to amount to 1,017 billion yen in total, 2.8% more than a year earlier, which divides into 154.4 billion yen for overseas travels (+3.4%) and 863 billion yen for domestic travels (+2.7%), according to the forecast. The questionnaire results show that the ratio of 'traveling to a shorter destination than a year ago' is up 2.7 points, and also the ratio of 'traveling to a longer destination than a year ago' up 1.7 points.
The average expense a traveler is 264,000 yen for overseas travel (+2.7%) and 36,200 yen for domestic travel (+1.7%).
The booking status of package tour brand LOOK JTB finds that the busiest days for departure will be April 28 and May 3 for domestic travel, May 3 for Asia and April 28 and 29 for Europe or U.S.A. 
Hawaii is popular as a family travel destination. Also, LOOK JTB bookings increased for Taiwan and Singapore in Asia or Italy and France among long-haul destinations.
Despite rise of fuel surcharges, stronger yen tends to encourage Japanese travelers to go abroad, and Asia is particularly selected partially because three consecutive holidays and four consecutive holidays are split in this Golden Week period. 
The table below shows the number of travelers and travel consumption JTB has forecasted: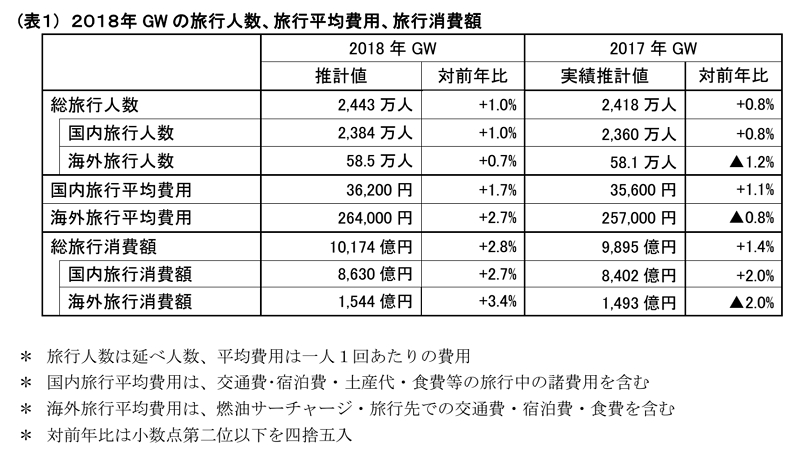 The table below shows expected travelers by destination: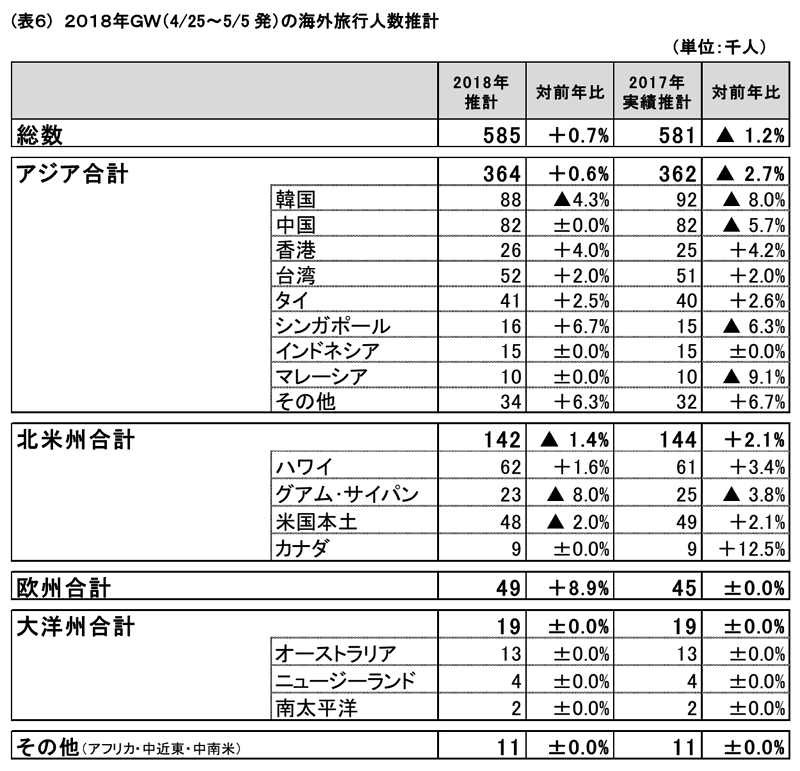 The booking status of Ace JTB, a domestic package tour brand, finds that bookings for Tohoku, Kyushu and Tokyo including the 35th anniversary Tokyo Disneyland increased. 
The biggest purpose for traveling in Japan is still 'homecoming.' The ratios of 'enjoying onsen' and 'walking in a town or shopping' are up 0.8 points and 1.6 points respectively. Interestingly, the ratio of travelers who choose ryokan as an accommodation is up 5.8 points.