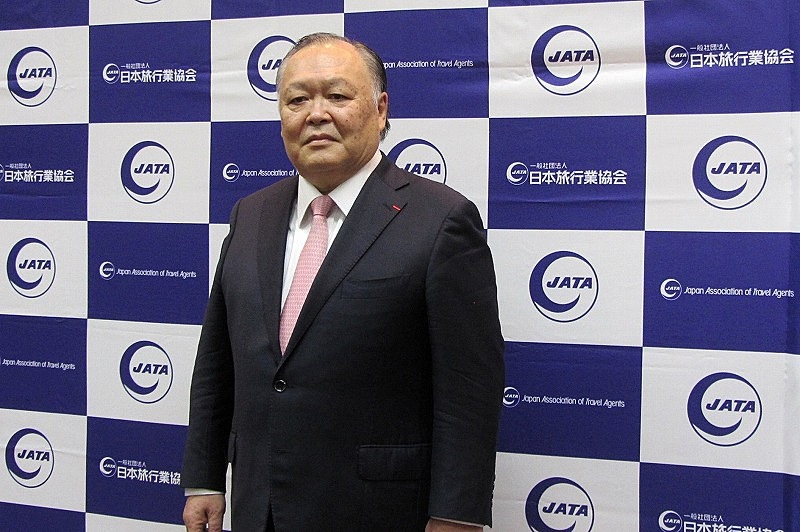 Jungo Kikuma, new Japan Association of Travel Agents (JATA) Chairman, said at a news conference for his inauguration that JATA and its members is overcoming the ongoing challenging time to advance the travel industry to a new era.
JATA has drawn up a roadmap for restart of domestic, overseas and inbound travel businesses and has shared it with the government as indexes for lifting of traveling restrictions. In addition, Kikuma showed his idea that JATA will request the government to introduce so-called vaccination passport for restart of international interactions and social and economic activities, as he said, "Vaccination is only a ray of hope for the tourism industry and will certainly become a game changer."
JATA expects that overseas and inbound travel markets will reopen half a year later. "Many countries has started lifting traveling restrictions for vaccinated people. It can be done by Japan as well," said Kikuma. "Japan should not be behind other countries in reopening the borders."
For domestic travel, travel companies produce well-managed tours with infection prevention protocols. Kikuma said, "I hope that the government will show a clear direction that vaccinated or negative travelers can be exempted from the restrictions."
Pointing out that it takes the overseas travel market a long time to be back to even 50% of the 2019 level, Kikuma also stressed that early restart of domestic travel boosting 'Go To Travel campaign' will be very important for travel companies because they have to rely on domestic travel exclusively for a while.
At the brink of bankruptcy
Many JATA members are still at the brink of bankruptcy, according to Kikuma. A total of sales of major travel companies was down 85% in April and 90% in May this year compared to 2019. Out of 1,135 JATA members, more than 90% are small or mid-sized companies with 100 or fewer employees, and most of them seem to go into a crucial stage in the next year. "We continue discussing them for their financial crises," Kikuma said. "We are making every effort to support them, asking for extension of special financial supports to the government."
Also, JATA is strongly requesting compensation of some sort the government when declaration of a state of emergency is issued, as travel companies have to cancel their tours as soon as the declaration is issued, even though they are ready to perform the tours with enough participants. The fourth declaration from late July has damaged the travel industry not only for this summer holiday season but also for this coming autumn.
New travel styles after the pandemic
"It is time for the global tourism industry to rethink what tourism values are," Kikuma said. "JATA members should recognize how the global awareness to tourism is changing. Foreseeing travel trends after the pandemic, we have to focus on shift to sustainable tourism, enhancement of safe travel and local revitalization."
"To play a social role and raise a business value as a travel company, it is necessary for us to break away from a traditional commission model or low-profit model and establish a new business model to earn a profit by ourselves," Kikuma added.
JATA is deepening communication with members to give them business judgement criteria because what managements need in this kind of crisis is information to foresee the future.