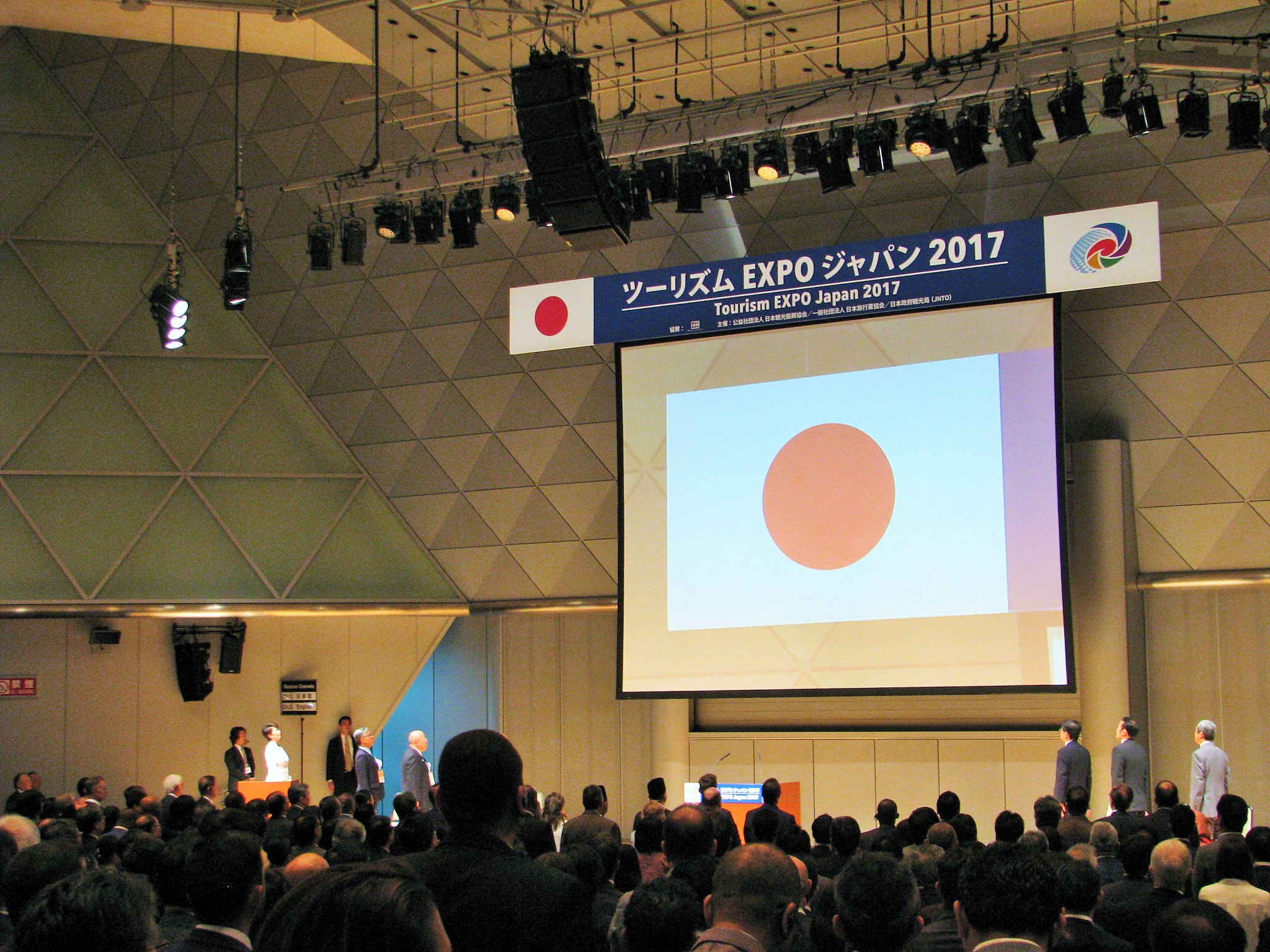 Lasting 4 days, Tourism EXPO Japan 2017 opened on 21 September. The first day featured Tourism EXPO Japan Forum, B2B appointment sessions (with inbound, outbound and domestic travel providers) and Japan National Tourism Organization (JNTO)'s VISIT JAPAN Travel & MICE Mart.
A feature of this year's Tourism EXPO Japan was the improvement of B2B meeting opportunities. A welcome reception was organized on the first evening for domestic and international sellers and buyers who had joined the B2B appointment sessions.
 During the welcome reception "Japan" for domestic and inbound travel sellers and buyers, Yoshihide Suga, Chief Cabinet Secretary, said "Tourism is a master card for the national growth strategy under the Abe administration." then to achieve a goal of 40 million international visitors by 2020 as a tourism-oriented country, "We are making every effort with our determination that we do all we can do."
Suga added "The number of international visitors and their spending tripled between 2012 (before the Abe administration was formed) and 2016 resulting from dynamic reforms, such as the easing of visa rules or expansion of duty-free goods" and "On top of that, the Japanese government is accelerating tourism promotions and the exploitation of tourism resources."
Outbound travel sellers and buyers gathered at the welcome reception "World" to benefit from networking opportunities. Jungo Kikuma, Vice Chairman of Japan Association of Travel Agents (JATA), said that the number of Japanese overseas travelers is expected to exceed 18 million in 2017, after a long interval. JATA established an outbound travel promotion committee with embassies, tourism authorities, airlines, tour operators, and travel agents to boost the outbound travel market.
Akihoko Tamura, Japan Tourism Agency Commissioner, pointed out that it is important for the Japanese tourism industry to promote two-way tourism for both inbound and outbound travel. He emphasized that Japan can benefit from more than mere economic effects, notably a better understanding of partner countries and deeper friendships with them.
Norio Yamaguchi, Chairman of Japan Travel and Tourism Association (an organizer of this event) said "I hope that the EXPO will be an event contributing to world peace through tourism in today's unstable global situation and giving the participants business opportunities not only with partners from the travel industry but also from different industries."