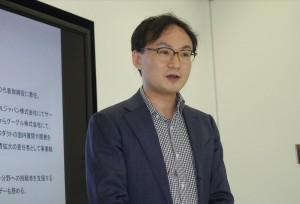 Tripadvisor has a business plan to encourage Japanese users to use its word of mouth for their travels in Japan. Tomoe Makino, Country Manager, Japan said at media round table, "Japanese mainly use our site for their overseas travels, not travel in Japan. We are trying to increase tourism properties using Tripadvisor as well as Japanese users using it for their travels in Japan."
As B2B services, Tripadvisor offers 'Owner Management Tool,' which enables a property owner to add original contents or photos, and also 'Business Listing,' which is a charged management tool exclusively for hotels. Makino said that Tripadvisor aims to increase accommodations, restaurants and tourism facilities using Tripadvisor's services in Japan from about 700,000 today to more by extending user network of the tools.
In addition, the next strategy includes improvement of the app, as smart phone users have skyrocketed in Japan as well, allegedly to 70% of the population by 2019. "We have a plan to provide users with services in traveling on the improved app," Makino said.
Makino also said of the inbound travel market, "The world's interests in Japan is very high." According to the Tripadvisor's data, it is noteworthy that global accesses to local regions of Japan have recently been growing. The highest year-on-year growth rate was found in Ishikawa Prefecture (+59%) as of June 2016, followed by Ibaraki (+54%), Toyama (+47%), Tottori (+42%) and Saga (+41%). Makino analyzed that the results represented higher interests in other regions than so-called Golden Route.