WiT Japan & North Asia will be organized on January 14 and 15 2022 for the first time in the past two years after several postponements amid the pandemic. What are highlights in the hybrid event joined by key persons in the travel tech space? Travel Voice interviewed Kei Shibata, CEO Venture Republic and chief organizer for WiT Japan & North Asia, and Aya Aso, Founder & CEO, SAVVY Collective and vice chief organizer.
WiT Japan & North Asia was held in June every year before the pandemic, but the pandemic has forced it to postpone several times. For the past two years, discussion on digital travel between Japan and the world has been stopped. Shibata said, "Japan has been in a kind of black box because of no contact with the world. It is not good for the Japanese tourism industry. It is crucial to deliver information more actively from Japan."
Aso said, "The world's tourism industry has experienced 'ground zero.' WiT has to take an initiative to connect Japan with the world."
The main theme for the event is 'Homecoming: Travel Zero.O To Infinity.O ∞.' They expect that the hybrid event will be a chance to invite more attendants than a physical event only.
Highlighted sessions
The hybrid format allows Hermione Joye, Sector Lead, Travel & Vertical Search APAC Google to join the event. She will talk about revealing insights on the changing traveller culled from research done by Google based on apps and consumer-based data.
Shibata picked up 'The Way We Live, Work & Play' as one of highlights, saying that Workcation or telework lowers a hurdle between travel and life. Multi-stay platform ADDress, temple stay platform Share Wing and local training platform PerkUP will join a panel discussion to talk about new travel styles.
Amid an increase in long-stay travels in alternative accommodations in U.S. or Europe, Rakuten Lifull Stay and Airbnb Japan will talk about potentiality of alternative accommodation in Japan.
In addition, Shibata said that he pay attention to 'Airlines & Sustainability' as a today's topic. In the session, David Wills, Executive Director Envest Global, will explain 'Aviation Sustainability and The Environment Report.'
Aso mentioned the latest movement in the hospitality industry, saying that WiT will be a chance to listen to marketing strategies of global hotel chains." In the name of 'Hospitality Unravelled & Transformed,' key persons from IHG, Hyatt and Solare will discuss distribution and marketing for the future.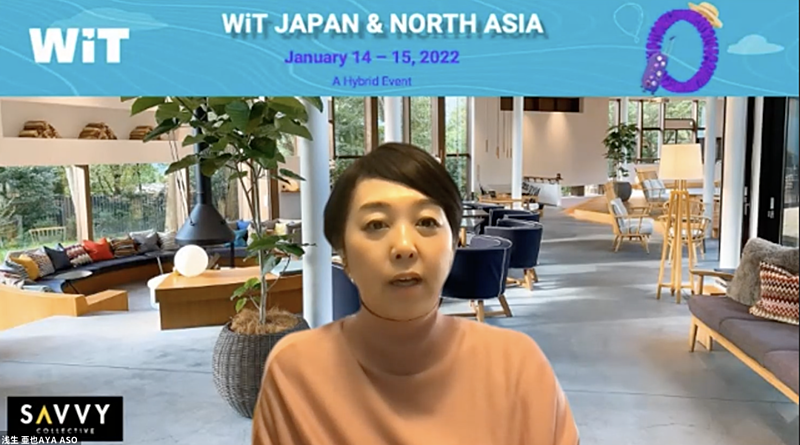 「リアルで人と繋がり、オンラインで世界と繋がる」と話す浅生氏
OTA sessions will be available as usual. As global OTAs, Booking.com, Agoda and Expedia will join a panel discussion, and Yeoh Siew Hoon, Founder WiT, will meet Eric Gnock Fah, COO & Co-founder Klook. As Japanese OTAs. Rakuten Travel, Recruit, Ikyu and JTB will talk about their businesses during the pandemic.
As closing remarks, Eijiro Yamakita, JTB President, will appear to talk with a theme of 'Continuing On is Power.'
The 10th anniversary
The regular rate for a two-days physical event is 60,000 JPY a person, while an online event will be availabl free.
Shibata said, "It is important for us to touch new technologies, know new innovations and stimulate each other. I hope that WiT will be a kick-off event for a good year 2022." Aso said, "We are supposed to celebrate the 10th anniversary of the WiT's birth. The first WiT was organized for restoration from the Great East Japan Earthquake. The next WiT will be an opportunity to revive from ground zero by the pandemic."