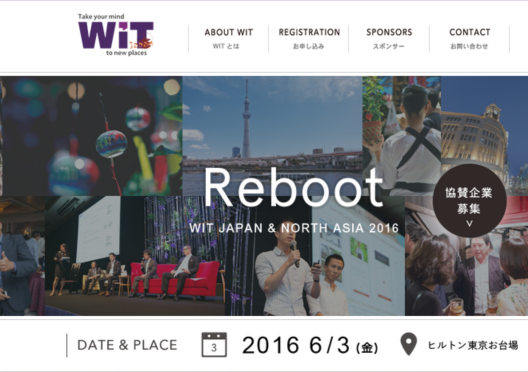 The 5th WIT (Web In Travel) JAPAN & NORTH ASIA 2016 with a theme of 'Reboot' will be held in Hilton Tokyo Odaiba on June 2 and 3 2016. The organizer has started receiving bookings from attendances and sponsors since February 29. The previous WIT was joined by 450 attendances from 18 different countries.
The international conference for the online travel industry, which is a good business opportunity for a wide variety of travel service provides including travel agents, hotels, ryokans, railways, airlines, rent-a-car companies or taxi companies, offers unique programs to discuss online travel trends from a technical viewpoint, such as online platform, mobile or app.
This year's WIT discussion may focus on Chinese market, vacation rental, services in travel, inbound markets for Japan and Korea, giant OTA, airline market, contents hotel market or meta-search as market trends in the online travel industry.
The first day's programs will include presentations about case studies by spotlight companies and a business competition among startup companies (startup pitch). On the second day, several opinion leaders will develop active discussions on the market trends, and a winner for the start-up pitch will be selected from finalists.
Registration fee is 36,000 JPY an applicant by March 10 2016. Discount according to the application time and student discount are also available.
In Japanese
WIT JAPAN2015