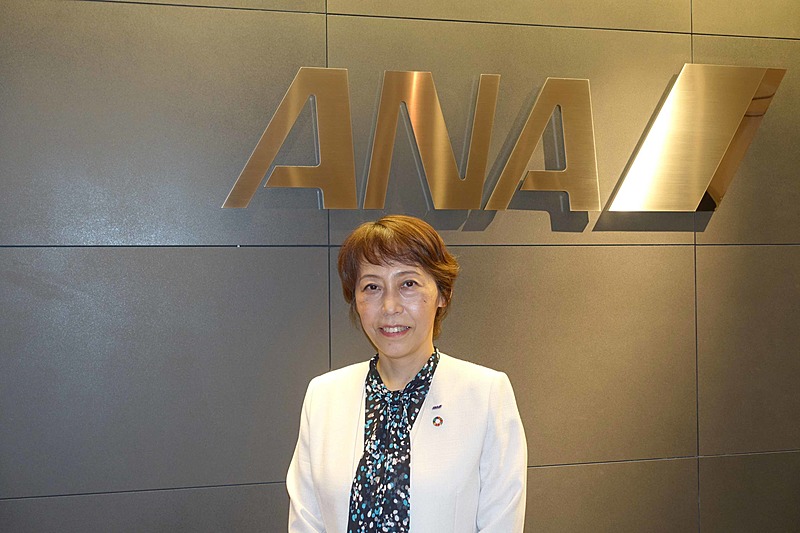 ANA Group is accelerating 'ESG Management,' placing 'Environment,' 'Human Rights,' 'Diversity Equity & Inclusion (DEI)' and 'Regional Revitalization' as significant business themes to realize sustainable society and to raise corporate values. Chikako Miyata, Executive Vice President Group Chief Sustainability Officer at ANA Holdings, talked about what they are doing for ESG Management for now.
The strategy toward practical zero emission
ANA recently announced 'Transition Strategy' to show a roadmap from a midterm goal of less than half of CO2 emission by FY2030 and a final goal of practical zero emission by FY2050. The strategy consists of improvement of flight operation and aircraft innovation, sustainable air fuel (SAF), CO2 offset scheme and Negative Emission Technologies (NETs).
"The strategy is to show up how we are moving forward now and can achieve the goals," Miyata explained. "This is our future vision."
Among the four strategic approaches, SAF plays a great role even though it accounts for 0.03% only of the total air fuel supply today. ANA expects that it will be a chief card toward zero emission.
ANA has launched 'SAF Flight Initiative' as a B2B effort to popularize SAF in each cargo and corporate program. For now, four cargo transporters and four corporations join each of the program. Miyata said that significance of the corporate program will be bigger especially as corporate trips are resumed after the pandemic.
In addition, ANA has launched 'ACT FOR SKY,' an industry-wide organization for SAF, working together with JAL and the related-firms.
There are, however, a lot of challenges. It is not sure whether or not the ANA's blueprint can work well, while ANA aims to replace more than 10% of air fuel with SAF in 2030 and to rely on SAF for about 70% of zero emission in 2050.
"Speed of social changes is totally different between a present decade and a past decade. For environment particularly, a game changer of some kind will possibly come out," Miyata said. "We are going to revise the strategy flexibly in accordance with changes of business environments."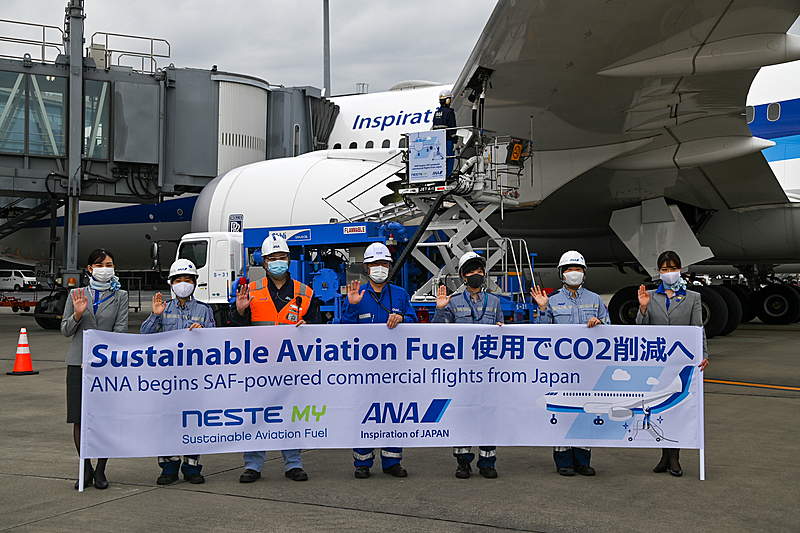 ANA operrated its first SAF-powered shceduled flight on November 8 2020(photo:ANA)
Sustainable stories for consumers
It is true that SAF is not known among consumers at all. Miyata said, "For consumers, I think we need to talk a story that aviation has to reduce CO2 with SAF.
As one of the 'ANA Future Promise' stories, ANA will begin operating a green-pained Boeing 787 in October 2022 to visualize the ANA's efforts for zero emission, not by familiar blue-pained aircraft.
One of the curiosities is a probability that an airline will charge cost on SAF to passengers in the future because SAF is an expensive fuel. "We have heard it at global conferences," Miyata said. "However, our priority is to build a business basis to procure SAF stably in terms of quality, quantity and cost."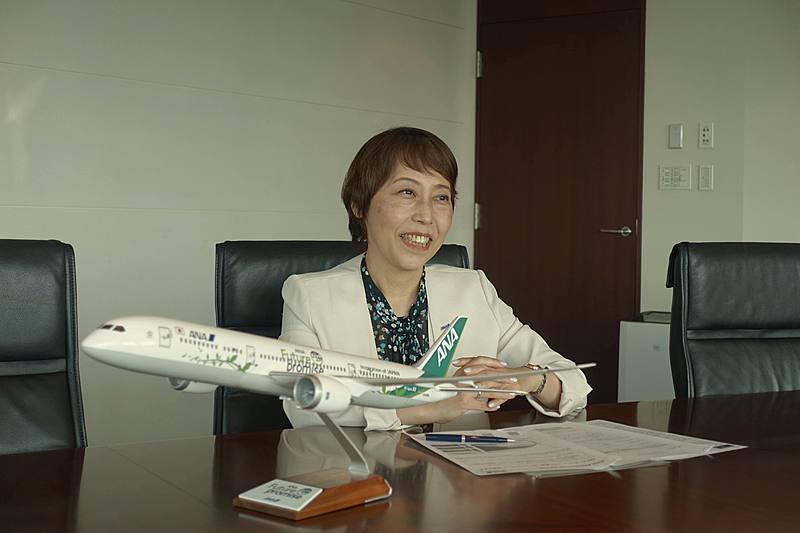 Miyata talks about ANA's ESG Management strategies behind the green-painted Boeing 787 modle
What ANA is doing for other ESG themes
Miyata talked about other sustainable challenges than environment.
Regarding regional revitalization, ANA Group is trying to solve a variety of regional issues together with local communities. Miyata said, "Relationship with local communities will be more important for us than before."
Anticipating sustainable tourism as well, Miyata said, "There are sustainable efforts in a destination and also on travel options . I think an important thing is to create a sustainable story through a travel."
Addressing human rights in earnest especially since it became a sponsor for Tokyo Olympics and Paralympics, ANA intends to follow the European Commission initiative for 'Corporate Sustainability Due Diligence' as a global company.
In the DEI space, ANA aims at female executives of 30% and female management staff of 30% in the whole group as early as 2020s. "For corporate diversity, management by females tends to be focused, but I think diversity means diversification of human resources, not only female perspective as a gender," Miyata said. "Nobody knows what will happen next. The governance by people who have the same careers seems to be weak especially in a crisis. A private firm should absorb a variety of ideas."