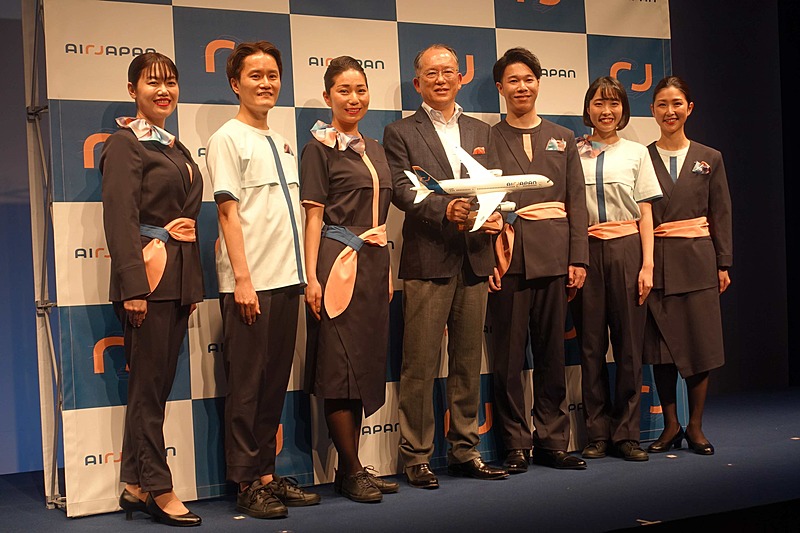 ANA unveiled products and services of its new international brand 'Air Japan,' which is scheduled to take off to Southeast Asia from Narita International Airport in February 2024. Particular destinations were not disclosed yet for a reason of airport slot allocation.
"Air Japan is committed to Japanese-oriented idea and quality," Hideki Mineguchi, President of AirJapan, said. "It is neither a full service carrier nor a LCC. It is in between the both."
In addition to its base airport Narita, Air Japan plans to fly from Kansai International Airport, expecting to carry international travelers particularly from Asia for Osaka Kansai Expo 2025. "Air Japan can coexist with Peach Aviation that is a ANA Group LCC based on Kansai.," Mineguchi said. "It is possible to fly from Narita to Southeast Asia and then return to Kansai."
Although Air Japan does not call itself as a LCC, a key of its business model is to high rotation of the aircraft. Accordingly, the airline is seeing short-haul international services in between middle-range services.
Air Japan is focusing on acquiring international passengers from Asia to Japan rather than outbound travelers from Japan. "Break-even-point is usually the load factor of 60 to 70% for FSC and 70 to 80% for LCC. Air Japan aims at load factor in between," Mineguchi said. "We do not change an initial goal to make a profit three years after start of the service, offering prices to win competitions with FSC of Asia."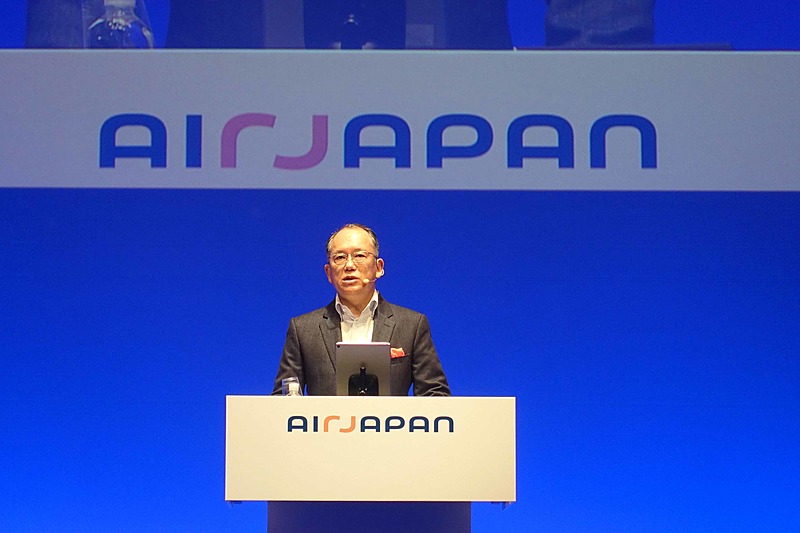 Air Japan President Mineguchi. Air Japan's brand concept is 'Fly Thoughtful.'
New seats, in-flight meals and uniforms
Air Japan will use Boeing 787-8 with all 324 economy class seats, A seat pitch is 32 inches, securing almost the same foot space as FSC. Mineguchi explained that Air Japan is committed to more comfortable sitting than LCC.
The seat dose not equip a monitor, but free in-flight Wi-Fi will be available for passengers to enjoy in-flight entertainment program on their own tablets or smartphones. Also, Type-A and Type-C USB ports and tablet holders are also provided.
In-flight meals are charged as options for pre-ordered menus or purchase menus onboard. Pre-ordered menus expect to reduce food-loss as one of sustainability efforts. For international passengers, a variety of Japanese food cultures can be experienced.
New cabin attendant uniform is designed with traditional Japanese cultural elements such as "knots" and "layers," immersing passengers in Japanese culture from the first moment of boarding. Variations in the uniforms allow them the flexibility to dress in their own unique way, which represents a diverse and inclusive workforce. There will be two types of bottoms- skirts and pants, and a choice of sneakers and leather shoes.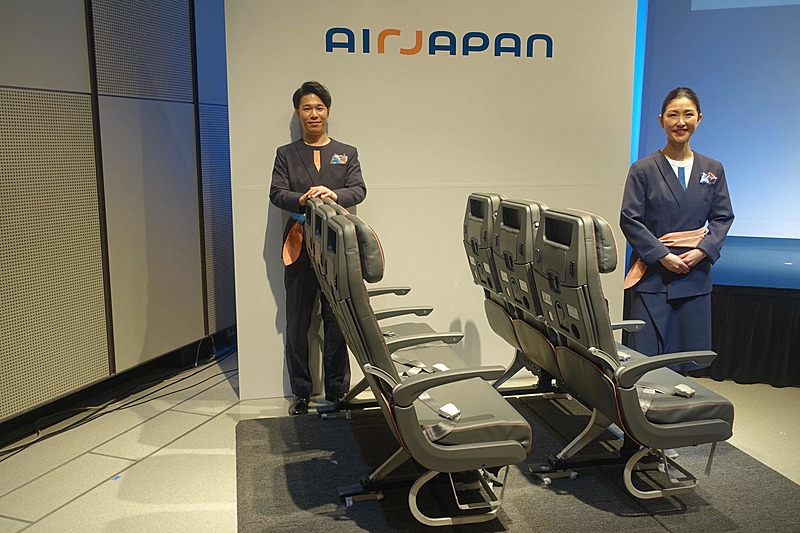 New seats and uniforms are unveiled.
Boarding music titled 'Ai' is composed by Noel Hiyamizu, Tokyo University of the Arts, Graduate School, featuring combination of Japanese traditional instruments, such as shakuhachi and koto, and western instruments.