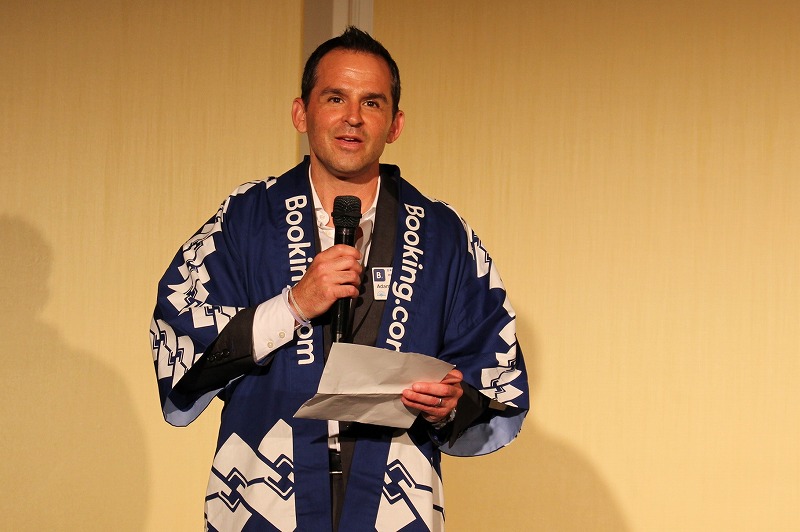 Booking.com held an appreciation event for lodging partners in eastern Japan, inviting about 85 excellent lodgings. Adam Brownstein regional director, Japan, made opening remarks: "Lodging demand by international visitors to Japan have certainly been increasing. I believe the future of the travel and hospitality industry is very bright. We are emphasizing strong ties with lodging partners in Japan."
Booking.com list about 12,000 lodgings in Japan today, increasing from about 10,000 as of the end of 2016. Out of them, the OTA selected 15 excellent lodging partners in eastern Japan. The same events will be held in five cities in Japan including Hokkaido and Okinawa.
Booking.com had Japanese travelers who booked hotels in foreign countries when it entered the Japanese market. Recently, however, Japanese travelers who book lodgings in Japan have increased by about 70% as listings on the site have increased, according to Booking.com.
At the same time, bookings of overseas hotels by Japanese travelers have increased by 1.5 times compared to the beginning. The booking trend has recently shifted from FIT destinations like Paris to package tour destinations like Hawaii or Guam.
For international travelers to Japan, Booking.com is trying to increase vacation rentals or guest houses on listings in addition to hotels or ryokans to meet changing needs. Booking.com said that bookings of lodgings in local regions, especially Kyushu, have recently been increasing because local culture, experiences and nature attract their interests.
Major markets for Booking.com are Taiwan, Korea, China, Europe and North America. Although the growth rate of bookings by Chinese travelers has recently been smaller, Booking.com will inform unique local experiences in lodgings for them in accordance with changes of their travel styles.
Prize-winning lodgings in eastern Japan are
<NHA/Hostel>
Kawagushiko Country Cottage Ban
THE SHARE HOTELS HATCHi, Kanazawa
GRIDS Nihonbashi East
<Ryokan>
Kawaguchiko Onsenji Yume Dono
Yoshiike Ryokan
Honjin Hiranoya
<Resort>
The Prince Hakone Ashinoko
<Hotel>
The Prince Park Tower Tokyo
Tokyo Bay Maihama Hotel Club Resort
Hotel Monterey Yokohama
Daiwa Roynet Hotel Nagoya Taiko Dori Side
Sendai Washington Hotel
<Chain>
Daiwa Royal
RNT Hotels
APA Hotels & Resorts