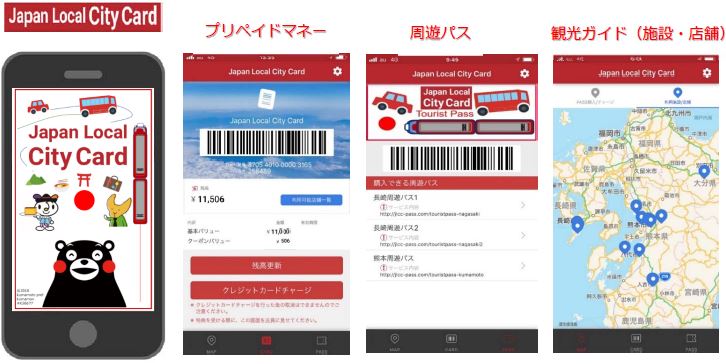 Nihon Unisys, Kumamoto DMO, NTT West Nagasaki Office and Nagasaki International Tourism and Convention Association has just started demonstration tests for a one-stop travel service app covering tours, food& drink, shopping and payment for international visitors in entire Kyushu area. 
The service is originated from Japan Local Card app provided in Kumamoto and Nagasaki in FY2017. The app, developed to aim at cross-prefecture travel and local revitalization, contains digital tour passes and a cashless payment service.
On the app, a user is able to purchase tour passes and tickets of public transportation or tourist spots and to get tourist information and some coupons for shops joining the program. In addition, a payment function for Alipay and pre-paid money charged on credit card are loaded on the app. Suppliers do not need to prepare payment terminals. 
The app acquires positioning data by minute and purchasing and payment data, which are analyzed by Nagasaki University to use local marketing for creation of the future services.
The demonstration program is supported by the FY2017 supplementary budget of Ministry of Economy, Trade and Industry (METI). In the future, the app may connect with the METI's 'Hospitality' platform to share information with other local areas, and also the service will be available for Japanese travelers.