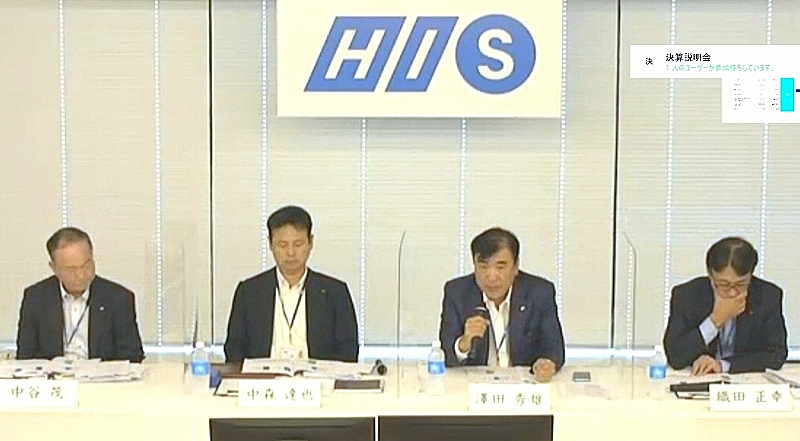 HIS announced that COVID-19 critically hit the consolidated business in the second quarter of FY2020 (November 1 2019 to April 30 2020) to fall into the deficits, posting sales of 344.4 billion JPY, operating loss of 1,469 billion JPY, ordinary loss of 760 million JPY and net loss of 3,459 million JPY.
The travel business, which accounts for 80% of the total sales, reduced sales by 11% to 299.5 billion JPY and fall into operating loss of 1,600 million JPY, affected by a 34.4% decrease in the overseas travel business to 130 billion JPY, a 32.9% decrease in the domestic travel business to 19.8 billion JPY and a 56.3% decrease in the inbound travel business to 6.6 billion JPY.
20 billion JPY cost cut effort and securing liquidity
HIS is trying to secure liquidity and executive thorough cost reduction efforts to survive the COVID-19 crisis. HIS will cut 20 billion JPY in labour cost, street shop rental fee and advertising cost and another 9 billion JPY for system development and cancelation or postponement of hotel developments. In addition, HIS has contracted with three main banks for capital commitment of 33 billion JPY in total.
Total assets reduced from 577.4 billion JPY as of the end of FY2019 to 488.1 billion JPY as of the end of the FY2020 second quarter. If HIS does nothing, non-consolidated account is expected to drop to 4 billion JPY overdrawn.
Injecting resources in domestic travel, closing 1/3 street shops
Forecasting the travel market will pick up in order of near domestic travel, long-haul domestic travel, overseas travel and inbound travel, HIS is leveraging the domestic travel business in earnest and at the same time preparing for recovering demands of overseas travel and inbound travel in the future.
For the domestic travel business, HIS is enriching bus tour products and dynamic package products and also joining the government's leading 'Go To Travel' campaign with HIS-affiliated hotels and theme-park Huis Ten Bosch, aiming to increase sales by 1.5 times to 100 billion JPY.
For the overseas travel business, supposing that demand recovery will be seen in Guam, Vietnam and Taiwan in the first phase, Oceania, Hawaii, South Korea and other Asian countries in the second phase, Europe and Middle East in the third phase and the Americas and Africa in the fourth phase, HIS is keeping in touch with airlines, hotels and tourism authorities.
Also, HIS is seeking new business models, such as online experience tours, subscription-based travel products, remote business travel service, staffing service or EC.
As one of the cost reduction efforts, HIS has revealed that it will reduce street stores by one third from 258 today to 80 in the next year. Hideo Sawada, HIS Chairman and President, said, "We had the plan even before COVID-19. I think that the time of street store has already ended." In parallel, HIS is accelerating digital transformation to establish an innovative online business model.