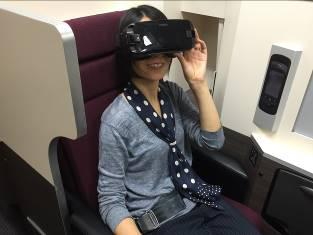 JAL, Hankyu Travel International, KDDI and VRize jointly demonstrated an on-board virtual reality (VR) service on a charter flight for Iceland on 10 September 2017. The demonstration was available for business class passengers only.
Wearing a 360-degree "Galaxy Gear VR" headset, a passenger could view content provided by KDDI through an exclusive application developed by VRize. Using KDDI's high tech 360-degree movie program SYNC TRAVEL, passengers could enjoy diverse content: landscapes of Germany and Argentina, Nagaoka Fireworks, a movie about dinosaurs, and a drone-based virtual trip WARP CUBE.
Collaborating with VRize, JAL performed VR demonstrations in its lounge at Haneda Airport in April 2017. Positive feedback from users motivated JAL to demonstrate this on-board VR service.