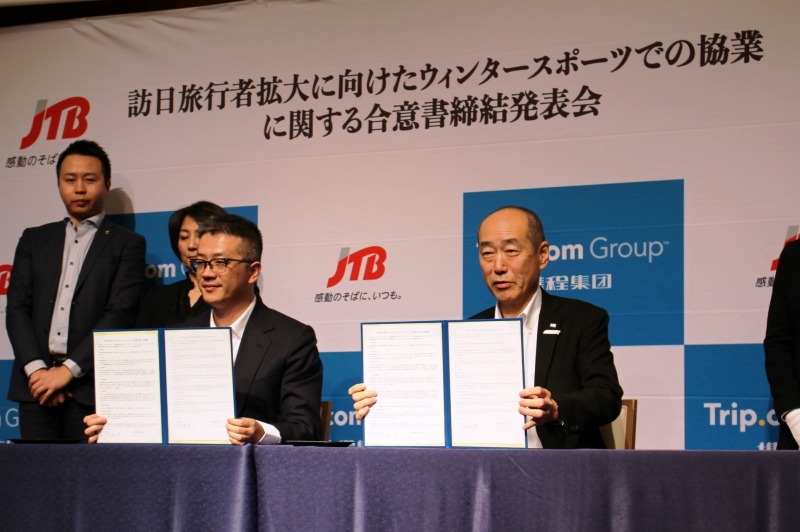 JTB and Trip.com signed an agreement on December 3 2019 to work together for development and selling of winter sports contents for Chinese travelers. As the first partnership, they are developing special travel plans in collaboration with local sly resorts in Hokkaido or Honshu, which will be promoted and sold on the Trip.com website and app.
Yasuhiro Tsuboi, Director and member of the board and head of Japan inbound business, said at a press conference, "We have a chance to expand the inbound travel market from China, as interests in winter sports in China have been rising. It is important for us to exploit the winter sports market in China to accomplish the government's goal of 60 million international visitors by 2030." 
The Chinese government hammers out 'Winter Sports Development Plan (2016 to 2025)' to increase winter shorts population to 300 million and winter sport athletes to 50 million toward Beijing Winter Olympic in 2022. 
Son Ha, Trip.com Chief Marketing Officer, said, "We expect that Chinese travelers to Japan will reach 20 million a year in the future. One of the current travel trends is to enjoy onsen and sports in wintertime. At the same time, we see new demands for ski resorts and ryokan in Japan." Trip.com expects to take advantage of the JTB's resources to develop new winter services and sell new products to meet their customer needs. 
"There are a lot of wonderful winter resorts in Japan, but they are unknown in China," Ha said. "Our business will bring about big chances not only for the travel industry of Japan but also for local communities. Also, the partnership will allow us to provide our world users with winter sports contents in Japan on global OTA Trip.com."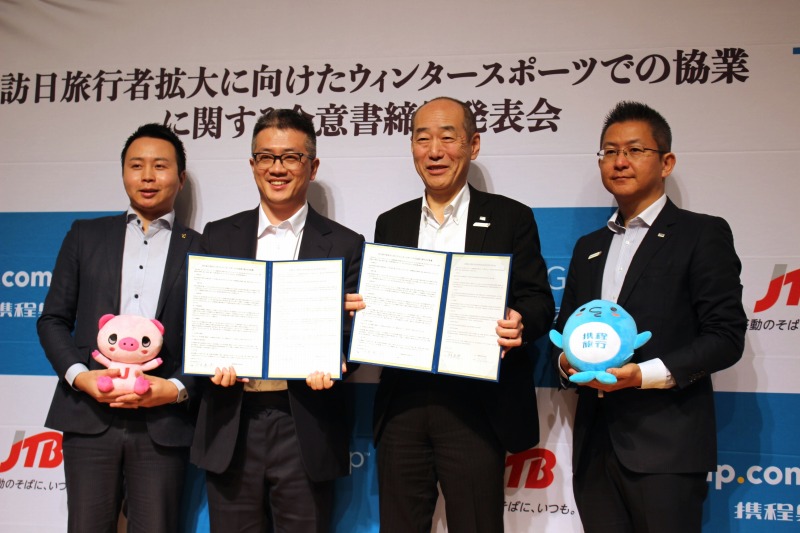 JTB and Trip.com have agreed to the following partnerships:
1 Selling of products for this winter season to Chinese travelers
2 Product development in collaboration with ski resorts in Hokkaido and Honshu
3 Creation of special plans, such as chartered slope exclusively for Trip.com users, skiing school plan for instructor certification or combination of 'Yuki Gassen (snowball battle)' contents with chartered accommodation
4 Booking of skiing gears in advance on the website