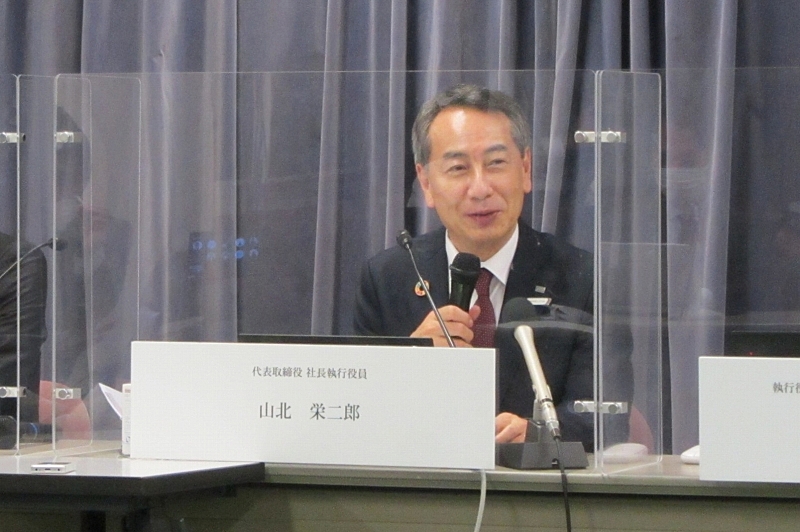 JTB increased sales for the first six months of FY2022 (April to September 2022) by 115% year on year to 386.3 billion JPY and improved operating loss from 33.1 billion JPY to 4.7 billion JPY and recurring loss from 26 billion JPY to 2.2 billion JPY, but dropped from net profit of 6.7 billion JPY to net loss of 2.9 billion JPY because of negative rebound from special profit of 31.1 billion JPY from selling of the headquarters building a year ago.
Eijiro Yamakita said, "Our business results have improved very much," picking three main drivers of recovery of domestic travel, expansion of BPO (business process outsourcing) and MICE and cost reduction efforts.
Expecting to continue business recoveries, JTB has forecasted operating profit of 6.3 billion JPY and achievement of a final net profit for the full year of FY 2022 ended March 31 2023, which will surpass the FY2019 profit levels.
Better results in domestic travel, MICE and BPO
Gross margin in the travel business was up 131% year on year to 37.3 billion JPY because the domestic travel business for both FIT and group travels has been right on track to recover. On the contrary, Yamakita revealed that outbound travel from Japan, inbound travel to Japan and global travel did not have chances to come back. Gross margin dropped to 3.1 billion JPY from 56.5 billion JPY in FY2019 in the outbound travel business and to 800 million JPY from 9.3 billion JPY in FY2019.
Gross margin in other businesses than the travel business, however, increased by 57% to 49 billion JPY, including 37.8 billion JPY for MICE and BPO. Regarding MICE, MC&A, a JTB subsidiary in U.S., successfully achieved the record-high result through acquisition of more orders in the U.S. and Europe market.
JTB has extended BPO to supports for vaccination nationwide, tourism-related facilities' operations and corporates' and governments' system operations.
As one of the business structure reforms, JTB reduced operating expenses by 7% to 96.9 billion JPY, 44.4 billion JPY less than 141.3 billion JPY in FY2019. Through the efforts, JTB shrunk its domestic group companies from 33 to 21 and its overseas group business bases from 447 to 187. About 10,000 jobs have been cut, and 154 retail shops have been closed.
How dose JTB foresee the latter half?
Yamakita said that domestic travel demand in the latter half of FY2022 is expected to surpass the FY2019 level even under the 8th COVID-19 wave, boosted by the nationwide travel discount campaign. Also, he revealed that JTB has increased bookings for inbound travels since open of the Japanese border, and foresaw that it is possible for the demand to soar further.
Yamakita recognized that recovery of the outbound travel has been dull because of weak yen, global inflation and geopolitical risks. Currently, JTB has received more bookings from travelers who have specific purposes, such as honeymoon or wedding, and who do not care about cost.
For the outbound travel business, JTB is focusing on flexible dynamic package, escorted package tours with purpose-oriented contents and high-yield products for luxury travelers.
Developing 'Area Solution' business to support local tourism operations and DX as one of the growth strategies, JTB doubled operating loss to 1 billion JPY for the new business despite a 25% increase in sales to 32 billion JPY. Yamakita explained, "It resulted from advanced investment. For the next few years, it will make a profit and prop up the whole business."