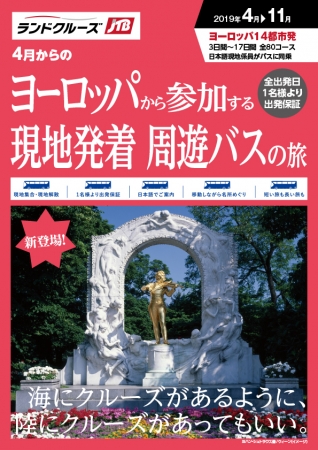 JTB will launch 'Land Cruise,' an unprecedented sightseeing tour bus service, across Europe in April 2019. Touring 14,000 km in total over 12 countries, the service exclusively for Japanese travelers contains lodging and sightseeing, but not include air ticket because of local departure and arrival. Local Japanese-speaking guide boards the bus to assist and to guide passengers, and departure for only one passenger is guaranteed.
This is the new service offered by JTB with a slogan of 'Revolution in traveling in Europe,' and a 50 seats scheduled bus will take a traveler to destinations not including an usual package tour or hard-to-access destinations for FIT with pubic transportation, such as Amalfi in Italy. 
JTB will begin selling two brands for the service on November 29 2018. For bookers at real retailers and through call centers, the service named 'Land Cruise JTB' for 80 limited popular courses in the period between three and 17 days will be available. For online bookers, the service named 'MyBus Land Cruise' for free choices of 130 course segments will be available. 
JTB will offer a half-price campaign for first 500 bookers applied by January 24 2019. The price of Land Cruise JTB 'Andalucia Essence for four days' in Spain is discounted from usually 54,000 to 57,000 JPY (one room for two persons) to 27,000 to 28,500 JPY.