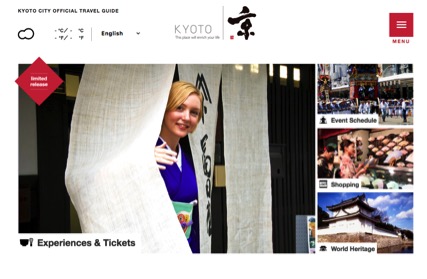 Kyoto Convention Bureau has renewed Kyoto City Official Travel Guide (https://kyoto.travel/en) for international travelers, adding a ticket sales platform and Hotels.com functions, tying up with Expedia.
With the ticket sales platform, Kyoto City is trying to increase the opportunities for international travelers to buy tickets for a variety of local experiences in Kyoto City, such as Jidai Matsuri, Kyoto National Museum, Kyoto Symphony Orchestra, Samurai Kembu Theater, and Tea Ceremony Camellia. 
This is the first ticket sales platform to deal with tourism and cultural content in Kyoto City. Lacking credit card payment systems and online sales systems, many business operators lose opportunities to increase the number of their international customers.
The ticket sales platform is just a demonstration until 15 December 2017, taking advantage of a budget from Japan Tourism Agency in FY2017. Kyoto Convention Bureau will consider whether the usage of the platform should be prolonged or not based on feedback obtained during this demonstration period.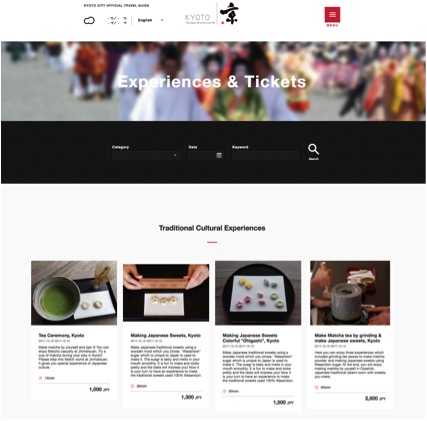 The website now also benefits from Hotels.com's search and booking function, based on a comprehensive agreement about local revitalization signed between Kyoto City and Expedia in September 2017.
In addition, the website functions for general shopping and duty-free shopping were merged on the top page to increase local spending in Kyoto City. The interface enables users to more conveniently search shops while walking in Kyoto City.
Kyoto Convention Bureau plans to enrich the website content by introducing "unknown" areas (thus spreading tourists from the center of Kyoto) and by adding new restaurant information.