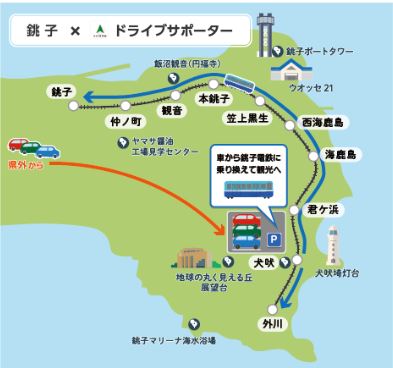 NAVITIME Japan, Choshi City of Chiba Prefecture, Choshi Electric Railway and KDDI are jointly performing a demonstration test for tourism-oriented MaaS to attract tourists from outside of Chiba. 
For the demonstration test, pm 'Tourist Guide Mode' on NAVITIME Drive Supporter, the car navigation app developed by NAVITIME Japan, is used. Providing local tourist contents on the car navigation app, the demonstration aims to encourage tourists from outside of Chiba to visit Choshi City. 
Choshi Electric Railway give one-day free-ride pass to a driver goes to Inubosaki Station on Choshi Railway after driving 96 km or longer. The one-day pass includes discounted tickets for tourist spots along the railway. The demonstration target is to boost park & ride, in which a driver parks a car at a station and get on a train to enjoy railway travel. 
Also, the demonstration test contains GPS-based 'Check-in Rally' at six checkpoints in Choshi City, preparing special gift for completion. 'Tourist Guide Mode' provides a variety of tourist information, such as recommended drive routes or local events, and coupons of shops along the railway.