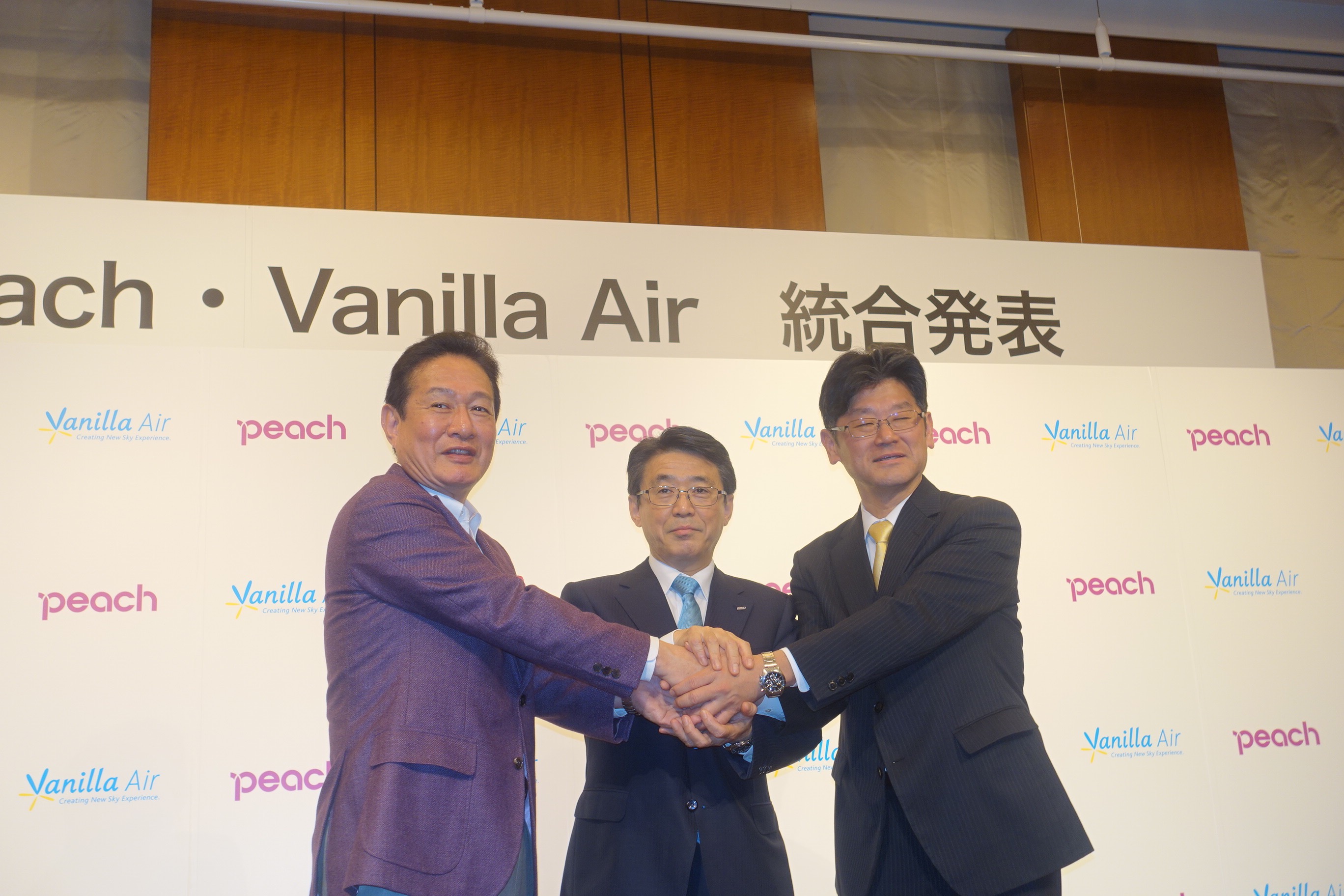 ANA Holdings announced on March 22 that Vanilla Air, a 100% subsidiary LCC of the ANA Group, will be merged into Peach Aviation, a consolidated subsidiary of the ANA Group, by the end of FY2019. After the merger, Peach has a plan to extend its international network to mid-range destinations to take in growing traveler demand to Japan in Asia. With financial goals of sales of 150 billion yen and operating income of 15 billion yen in FY2020, new Peach aims to be the third largest airlines in Japan and a leading LCC in Asia. 
"For the future ANA Group, it is important to accelerate the LCC business to take in new demands in both domestic and inbound markets. The merger will help ANA Group maximize profitability," Shinya Katanozaka, ANA HD President and CEO, said at a news conference. "Now is the best timing for the merger because of improving financial results of the LCCs, rapid growth of the inbound travel market and larger business opportunity for local revitalization in Japan."
"We have judged that this is the perfect timing to win severer competitions with foreign LCCs that has been extending their networks to Japan before Tokyo Olympics and Paralympics in 2020," Shinichi Inoue, Peach Aviation President said. "The merger with Narita-based Vanilla is expected to enable Peach to have a chance to extend the network from Tokyo, which is the biggest merit for Peach." For that, part of its headquarters functions in Osaka may be shifted to Tokyo for effective operation. 
Peach develops its LCC business with the identity strategy highlighting its uniqueness. "Our diversity will be heightened with the merger, and the identity strategy will also be brushed up," Inoue said. After the merger, Peach has a goal to extend the network to 50 or more domestic and international routes, however Inoue did not reveal a concrete plan, saying that it depends on the fleet operation rate, partnerships with destination cities and passenger convenience.
"To win the competition, it is crucial for us to optimize our resources for more effective management," Katsuya Goto, Vanilla Air President, said. 
Regarding expected synergy effects, Katanozaka explained, "Only three routes are overlapped by Peach and Vanilla today. Vanilla's resources will be added to Peach as they are, which will help Peach not only for cost effectiveness but also future growth." 
On the same day, ANA HD announced that it has signed a contract with First Eastern Aviation Holdings (FE), a co-stockholder for Peach, that ANA HD acquires 10.9% of the FE's holding stocks at 1.13 million yen. After the official stock transfer in April this year, the share of ANA HD for Peach will rise from 67.0% to 77.9%. Katanozaka said that the deal is not relevant to the merger.