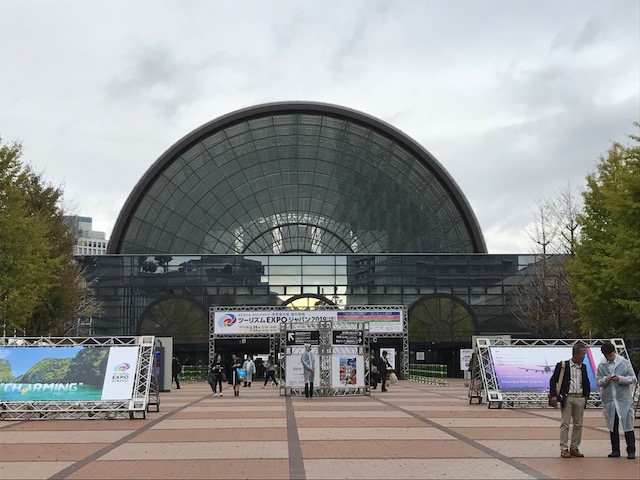 The first Tourism EXPO Japan 2019 in Osaka was held for four days between October 24 and 27 2019, particularly featuring environmental issues relevant to tourism, two-way tourism and the latest digital travel trends. Also, the event exhibited characteristics of Kansai area including Osaka.
Inviting World Master Games in 2021 and Osaka EXPO in 2025, Osaka set up a larges-scale booth with a concept of 'Sports, Foods, Wellness and Fun' to appeal unique cultures and lifestyles of Kansai areas. On the first day, Hirofumi Yoshimura, Osaka Governor, emphasized growth of tourism in Kansai area at a welcoming reception.
One of the original contents for the EXPO in Osaka was IR Gaming EXPO. In Kansai area, Osaka and Wakayama declare bid for the future IR cities. The symposium said that awareness of IR as Integrated Resort, not mere gaming or gambling, has recently been rising.
At the third Tourism Ministers' meeting on October 24, joined by tourism ministers from 19 countries and UNWTO, Zurab Pololikashvili, Secretary-General at UNWTO said, "We should share advanced case studies not only with the countries here but also with other countries."
On October 25 and 26 just after the Tourism Ministers' meeting in Osaka, G20 Tourism Ministers' meeting was held in Hokkaido to adopt a joint statement including efforts to resolve over-tourism issues for the future sustainable tourism. 
A symposium on digital marketing attracted great attentions at the EXPO amid rapid expansion of digital travel with mobile phones today. Koji Turumoto, a moderator of the symposium, Travel Voice CEO, said, "Travel is very friendly with digital. I hope that the symposium is an opportunity to get ideas of what you should do now." Kei Shibata, Venture Republic CEO, said, "Super Apps, like WeChat, are changing travel businesses in Asia. Even in Japan, several thousands of bookings are generated on LINE, the largest communication app of Japan."
At Inbound Tourism Business EXPO, IT companies, communication companies, start-ups or other different industries exhibited their advanced tourism services or solutions using advanced technologies, such as VR or AR.