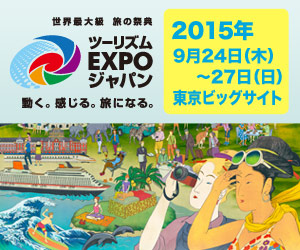 JATA Tourism EXPO Japan with 1,145 exhibitors from Japan and the rest of the world will open in Tokyo Big Sight on September 24 2015, expecting to welcome 170,000 visitors the for four-days exhibition and business secession, more than 154,000 visitors in the last year. It is noteworthy this year that the largest tourism event in Japan is exhibited not only by tourism-related companies or organizations but also by more different industries or organizations than those in the last year.
One of them is Japan Shopping Tourism Organization (JSTO), which will join Tourism EXPO Japan as well as business secession for inbound travel VIST JAPAN Travel & MICE Mart. As shopping is one of the hottest themes in the inbound travel market, a lot of member companies of JSTO will introduce their developing solutions or products in the exhibition.
Tourism Professional Seminar, which will be held on September 25, offers seminar programs with a variety of themes, such as local revitalization, to increase audiences not only from travel companies but also from travel-related industries.
Tourism EXOP Japan is also a tourism promotion event for general consumers on September 26 and 27. To let consumer visitors enjoy the event, the organizer JATA (Japan Association of Travel Agents) will set up a day-care center for kids with qualified staff in tie-up with a professional company CombiWith.
Another interesting effort to attract consumers' attentions is that TripAdvistor will open an event booth named 'Shoot photos in world famous tourist sites.' It represents that the organizer recognizes rapid growth of online travel services in Japan.
For PR to collect 170,000 visitors, the organizer has increased a budget for a digital advertising campaign, introducing not only event programs but also entertainment programs offered by exhibitors. Also, a variety of PR activities have been performed to lure young generation visitors and foreigner residents in Japan, as the organizer anticipates their powers to send messages about travel or Japan.
The organizer expects that integration of Tourism EXPO Japan for outbound travel and travel in Japan, VISIT JAPAN Travel & MICE Mart for inbound travel, International Tourism Forum and other-related events including Japan Night will upgrade the Japan's largest tourism event as an opportunity for evolution of two-way tourism.
Tourism EXPO Japan started in 2014 by merging the previous JATA Tabi Haku for outbound travel and Tabi Fair Japan for travel in Japan. Following the first Tourism EXPO Japan in the last year for 'Hop,' it is placed as 'Step' this year to make the tourism event grow bigger in the future.
In Japanese