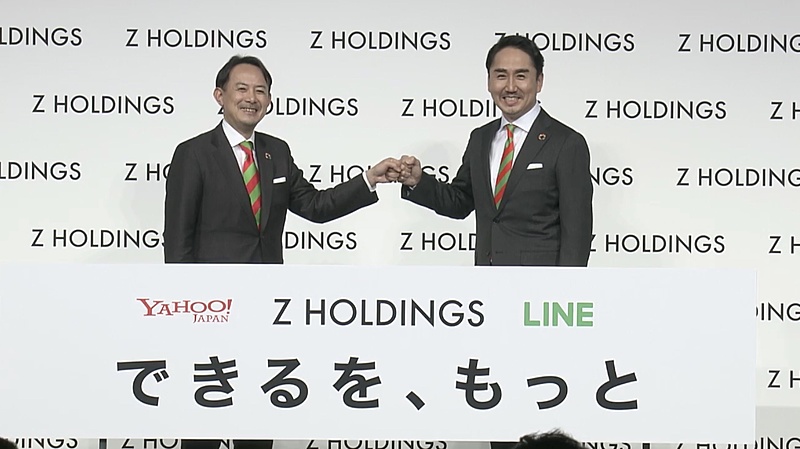 Z Holdings with Yahoo Japan under its umbrella and LINE, the biggest communication app in Japan, announced completion of the business integration of the two companies into new Z Holdings on March 1 2021. New Z Holdings (ZHD) became the Japan's largest Internet service provider in three main business areas of information, payment and communication with a total of over 300 million users, 15 million corporate clients and over 3,000 collaborations with municipalities.
Kentaro Kawabe, ZHD President and Co-CEO, said at a news conference, "Keys to a success for the integration are AI, real time and a variety of big data. We will combine all of them into our services." Takeshi Idezawa, ZHD Co-CEO coming from LINE, said, "The integration is meaningless unless we can provide our users with new values."
Designating 'Search/Web portal,' 'Advertising,' and 'Messenger' as its core business areas on Yahoo Japan and LINE, ZHD focuses on 'Commerce,' 'Local/Vertical' 'Fintech' and 'Social Services' as its main service areas. Looking for synergy effects between Yahoo Japan and LINE, ZHD aims at operating revenue of 2 trillion JPY and operating profit of 225 billion JPY in FY2023.
Kawabe said, "We expect that advertising marketing, e-commerce on LINE and Fintech will particularly contribute to the future sales," though he added that it is not easy to add some trillion JPY in the next few years.
Also, ZHD revealed that it will invest 500 billion JPY to growth of AI-based services and recruit 5,000 engineers in the next five years.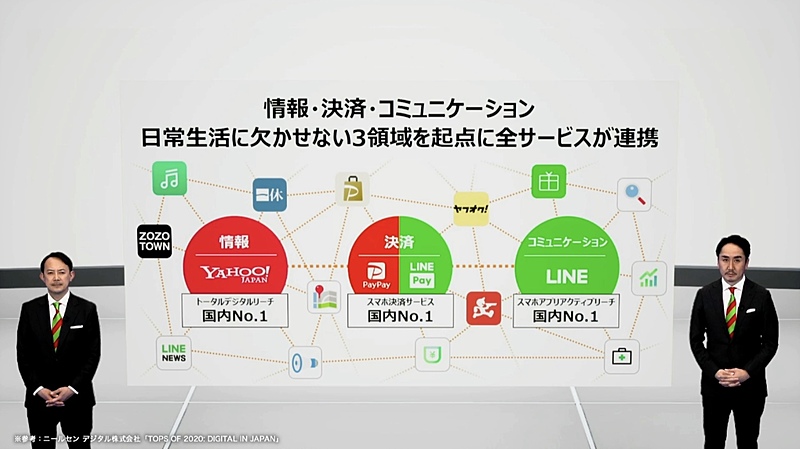 オンラインプレゼンテーションより
AI-based matching capability will be improved for travel services
In Commerce, as one of the focus business areas, ZHD will seek social commerce using LINE, such as 'LINE Gift,' 'Social Gift' or 'Team Purchase.' Also, 'Live Commerce' will be offered taking advantage of influencers introducing their products on video. 'X (Cross) Shopping' linking shopping data between online and physical stores and 'My Price Initiative' for dynamic pricing will be served.
Using the expertise of NAVER, ZHD plans to launch 'Smart Store Project' in the first half of 2021, which will provide business operators EC solutions, including construction, operation and analysis of their own EC websites, as well as customer service and traffic referral.
In Local/Vertical, ZHD is improving its matching capability for users of travel and restaurant bookings, using AI technologies, and also a new restaurant booking service 'LINE PLACE' will be launched in addition to the exiting services of its kind.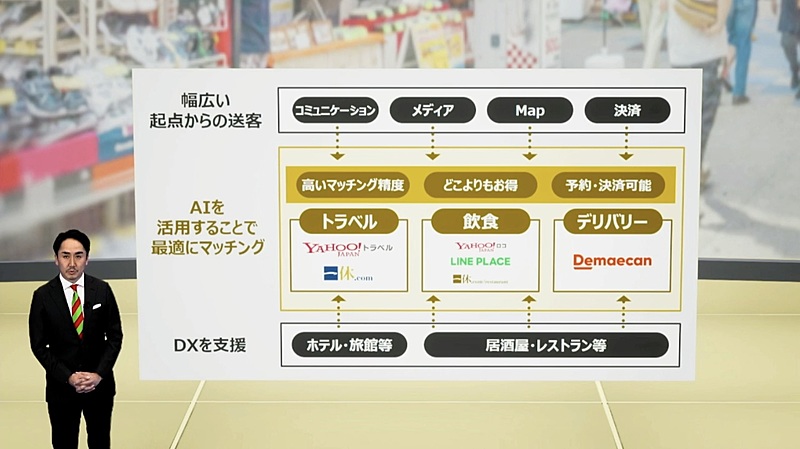 オンラインプレゼンテーションより
In Fintech, ZHD will expand the 'Scenario Finance' initiative, which proposes the most suitable financial products such as loans, investment products, and insurance according to the users' actions such as buy, reserve, and pay.
PayPay and LINE Pay are expected to be integrated into LINE Pay's QR/barcode payment into PayPay in April 2022.
For travelers, an insurance product for cancellation will be created to meet travelers' needs for more flexible booking actions
As social services, ZHD expects to contribute to DX for public services, including vaccination procedures on the LINE system, disaster prevention services and healthcare services.
Accelerating business development overseas based on localization
"We are going to be one of the leading AI-Tech companies in the world, "Kawabe said. "We are forcing on localization, taking advantage of our various group companies' capabilities," eyeing IT giants, GAFA in U.S. or BAT in China.
"Users do not care about which provider is good or not," Idezawa said. "All they want is convenience for them. We want to offer a dominant service differentiating other services, seriously listening to users' voices."
Kawabe also mentioned the future super app, saying, "I think it is possible for us to evolve LINE, Yahoo app and PayPay into super apps in the future, improving their basic services and solutions."