The Japan National Tourism Organization (JNTO)'s statistics for 2018 finds that Japan received 7,359,000 from South Korea (+5.6% year on year), 8,380,100 visitors from China (+13.9%), 2,207,900 from Hong Kong (-1.1%), and 4,757,300 from Taiwan (+4.2%), which accounted for 73.4% of the total. Visitors from South Korea, China and Taiwan were record-high.
The graph below shows yearly changes of visitors from the four markets in the last decade: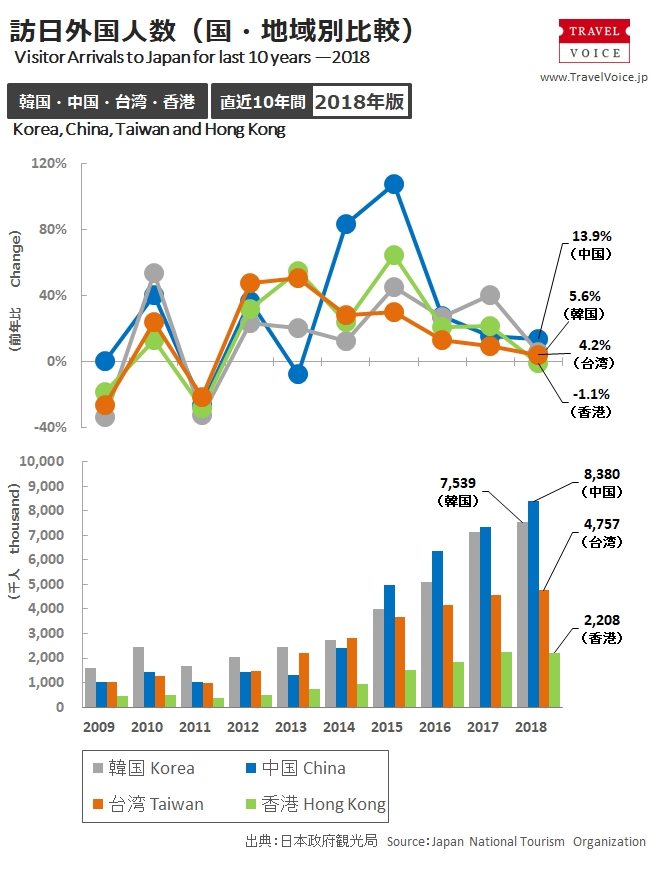 In December 2018 only, visitors from the four markets recovered from the downturns since the natural disasters occurred in Japan in the summer as the graph below shows: 599,100 from China (+6.2%), 681,600 from South Korea (+0.4%), 335,800 from Taiwan (+5.1%) and 209,500 from Hong Kong (+1.1%).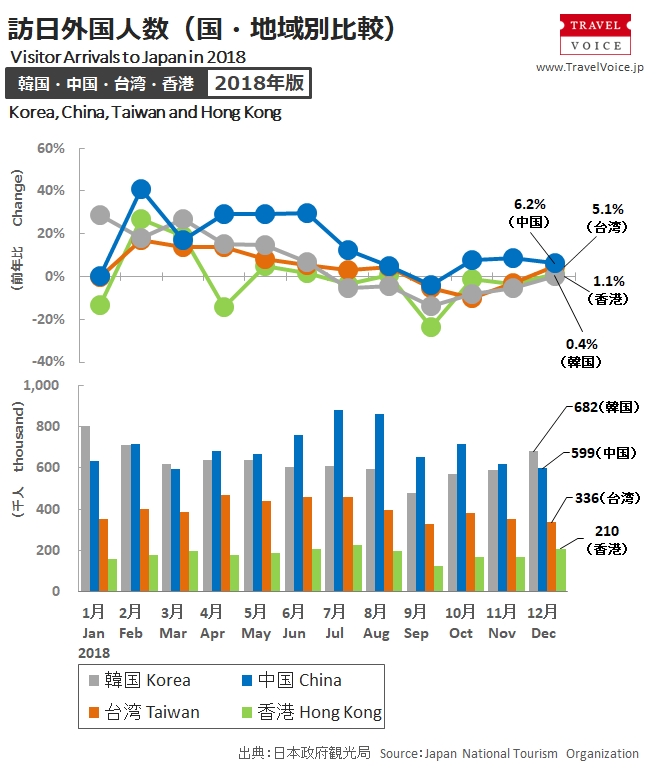 Visitors from South Korea exceeded 800,000 in January 2018, the highest on a single month basis. JNTO said that SNS or YouTube campaigns targeting young travelers and family travelers worked effectively, and also extension of the LCC network boosted the market. 
Visitors from China increased year on year in all of the months expect September, when Kansai International Airport shut down due to the typhoon damage, and in July particularly, the month result reached record-high 879,000 on a single month basis. JNTO has shifted its promotional target to FIT and enhances promotions and supports to travel companies in local cities.
Visitors from Taiwan recovered to the same level a year ago in December from the downturns due to natural disaster damages. JNTO focused on promotional activities in cities with direct flights to Japan. 
For Hong Kong, JNTO tied up with local travel magazine to expose travel attractions in Hokkaido, Tohoku, Hokuriku and Shikoku.