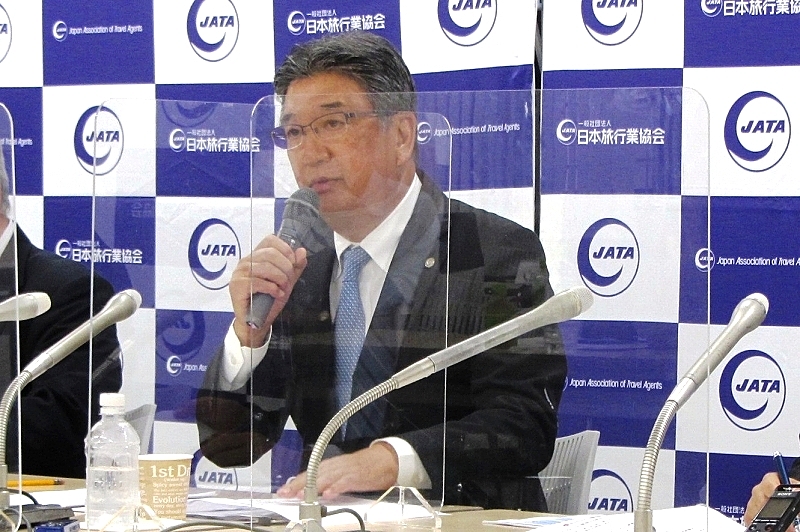 A nationwide travel demand boosting campaign by the Japanese government is now under re-consideration amid possible 7th wave of COVID-19 cases. It is supposed to follow the ongoing regional-blocks campaign in this summer.
"A nationwide travel demand boosting campaign is not a support to the travel industry but a master card to revitalize local economy," Hiroyuki Takahashi, Chairman at Japan Association of Travel Agents (JATA), said at a news conference on July 7. "It is also a strong message to consumers. If it is canceled or postponed, it is possible to deliver a wrong message that travel is one of the causes to spread the virus."
When JATA performed two monitor tours with thorough health protocols last year, they found zero cases. After this year's Golden Week period from late April to early May, no big spread was not discovered even without any travel restrictions. Takahashi said, "The results are evidences that travel is not a cause to spread the virus."
Eliminating three barriers soon
In addition, Takahashi strongly claimed that the Japanese government should ease entry restrictions for full-scale reopening of cross-boarder travels, requesting lifting of a cap of 20,000 entries a day, negative certificate acquiring 72 hours before leaving a destination and visa requirement for foreign travelers.
"PCR test before coming back to Japan is a cost and psychological burden for Japanese travelers," Takahashi said. "Japan should follow the world trend, based on science data, not depending on the number of cases."
Takahashi also mentioned the current conditions of tourism operators. "In the past two years, many operators lost their businesses and are closing to the edge in terms of financial conditions. It is crucial for the government to maintain public supports to them until each of the domestic, inbound and outbound travel markets restores to normal."
Cross-sectional campaign to boost demand
In the meantime, JATA is making efforts to help travel companies regenerate their businesses, particularly supporting creation of higher-valued products and new businesses extending from travel business expertises.
JATA will launch 'Outbound Travel Restart Project' on July 15 2022 to deliver messages of 'safe overseas travel is ready' and 'overseas travel tours have been sold again.' The first project may be followed by the second and the third projects from a long-term perspective.