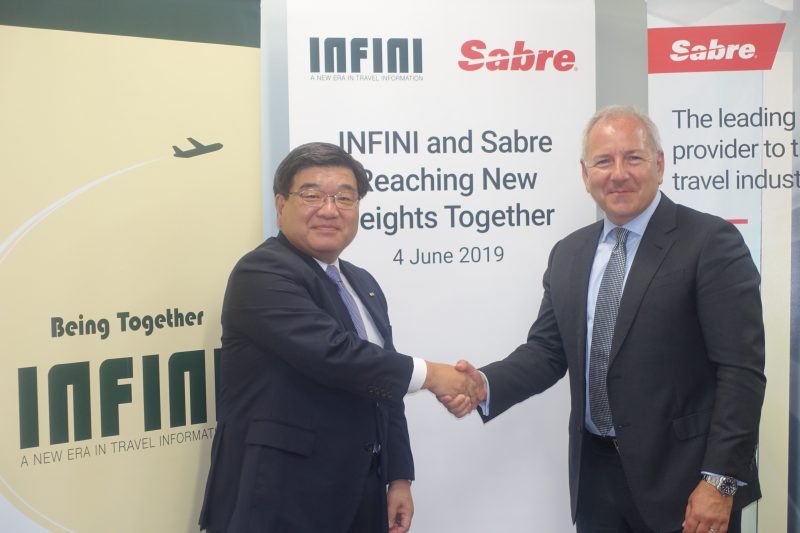 Sabre, the leading travel technology provider, appointed INFINI Travel Information as an official distributor of its global products and solutions in Japan, upgrading from a GDS hosting contract. The INFINI's capital alliance with ANA (60%) and Everest Investment Holdings (40%) is unchanged.
Kimio Uemura, INFINI CEO said at a news conference after signing the new contract in Tokyo on June6, "Amid digitalization in the whole society, our clients' business models have changed. We have to meet the changing needs," With the new partnership, INFINI will propose advanced Sabre solutions to Japanese travel companies that seek global businesses. 
Explaining that Sabre has invested $1 billion for development of advanced technologies including NDC, Todd Arthur, Sabre Vice President, said, "Our new agreement with INFINI demonstrates Sabre's commitment to the continued success of Asia Pacific's travel industry. We are pleased to partner with INFINI as our official distributor in Japan and provide the agency community with access to over 420 airlines and 285,000 hotel properties."
Under the contract, INFINI will provide its clients with one-stop service for both the INFINI's original services and products and Sabre's global solutions and products. INFINI expects to maintain existing clients and at the same time to obtain new clients that INFINI might have lost before because of less globalized business.
More concretely, INFINI plans to release 'Sabre LINX PLUS' platform installing Sabre functions probably by the end of this year, in addition to the current 'INFNI LINX PLUS' and 'Sabre Red 360.' 
Regarding NDC, INFINI currently provides its clients with the NDC contents on INFINI LINX PLUS in partnership with Travel Fusion, while Sabre bought out Farelogix, a leading NDC company, last year. For a while, the two solutions will be offered according to customers' needs.