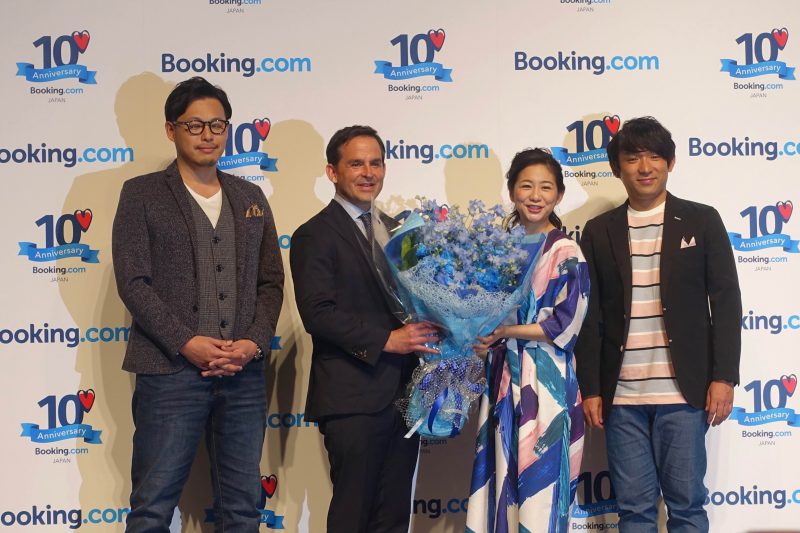 Celebrating the 10th anniversary of founding of its Japan office, Booking.com Japan organized a media event to explain the business strategy in Japan. Adam Brownstein, Regional Director North Asia of Booking.com, said in the opening remarks that the Japanese market has drastically changed with a huge increase in international visitors and Japanese travelers' preferences of more personalized travel. The OTA intends to support entire travel experience seamlessly from before-travel to in-destination and even after-travel.
As one of the business focuses in Japan, Booking.com is strengthening 'Booking Experience' business in Japan by adding Okinawa on the in-destination activity booking listing in late April 2019, following Tokyo, Osaka and Kyoto. Booking.com will offer Okinawa's unique local activities, such as marine sports including diving or surfing, kayaking, cooking classes for Okinawa's original foods or other cultural experiences. Booking Experience is available in 124 cities globally, and in Tokyo from April 2018. 
In addition to Booking Experience, Booking.com is focusing on the vacation rental business by increasing Japanese traditional houses or vacation villas in preparation for World Cup Rugby this year or Tokyo Olympic and Paralympic Games next year. 
Booking.com also announced that the number of lodging listings in Japan reached 940,000 or more as of March 2019, as a result of stronger partnership with lodging suppliers. In 2018, Japan is the 8th most popular destination in the world, and Japanese users have recently increased to the 11th market in the world. City-wise, large growths of bookings were found in Sendai, Yufu (Oita), Fukuoka, Kanazawa and Osaka in the inbound travel market and Kawasaki, Matsuyama, Osaka, Niigata and Utsunomiya in the domestic travel market.