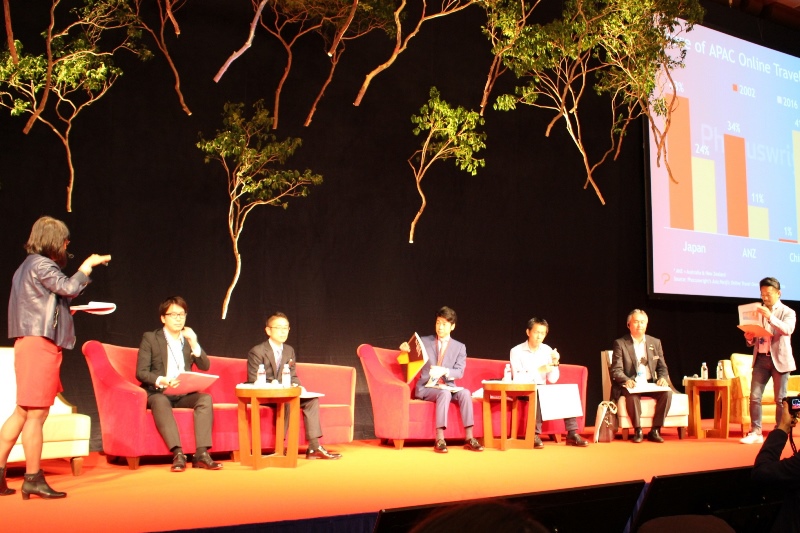 WIT Japan 2016 (Web in Travel Japan 2016) organized the panel discussion inviting five major Japanese OTAs to discuss what will happen on the online travel market in the future, including each OTA's strategy, new technologies or home sharing, with exchanges of questions and answers.
Panelists are:
Yoshiyuki Takano, Deputy Managing Director, Travel Business, Rakuten Inc
Hiroshi Nishida, Senior Manager, Travel Dept, Shopping Company, Yahoo Japan Corporation
Kenichiro Miyamoto, Executive Manager, Recruit Lifestyle Co Ltd
Jun Sakaki, CEO,Ikyu
Kenichi Yamaguchi, Managing Officer, Deputy General Manager,i.JTB Corp.
Co-moderators are:
Yeoh Siew Hoon, Founder & Managing Director, WIT
Kei Shibata, CEO & Co-founder, Venture Republic
Q1: Under the forecast that a online travel market share of Japan in Asia is expected to shrink from 43% in 2002 to 24% in 2016, how do you see the Japanese OTA market in the next three years?
All of the panelists shared an idea that the share will not rise in the next three years.
Q2: How much is your market cap?
Yahoo "Probably in between Priceline and Expedia."
Ikyu "Maybe around 1 billion JPY because we were purchased by Yahoo at 100 billion JPY"
Q3: How much is your gross booking?
Recruit "The same level as Qunar"
Yahoo "Below Qunar"
i.JTB "Not disclosed because of an unlisted company."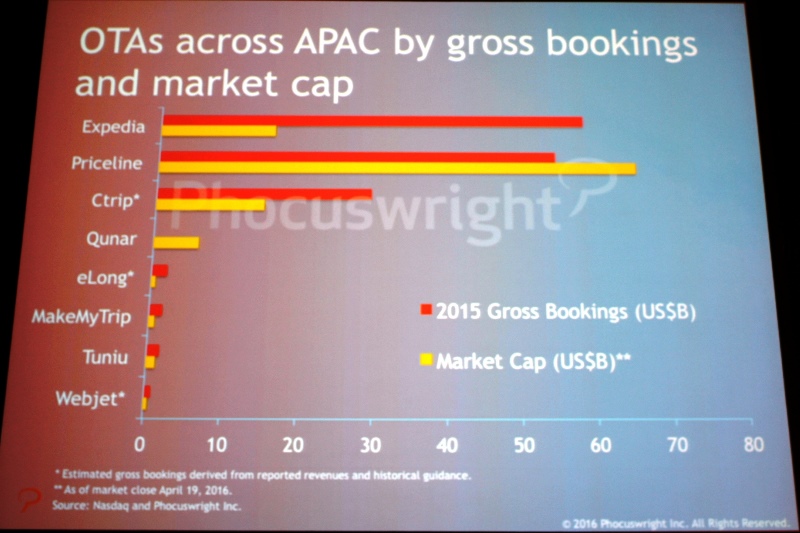 Q4: What do you suppose customer sources (search, SNS or others) in the two years later?
Yahoo "Customers from apps will increase"
Rakuten "Direct traffic will increase, for which the OTA emphasizes how it can raise royalty."
Ikyu "We understand the Yahoo's search power is greater than we expected. With that, we are able to compete with Google."
i.JTB "Only JTB has both an online function and a real shop network. We have forecasted that we can equally have customer resources from web and real shops under our omni-channel strategy."
Q5: Do you intend to enter a home sharing business?
Ikyu "We have an idea to specialize in high-end home sharing only."
Yahoo "We do not decide to include home sharing into out travel business, but we have already offer home sharing opportunities for events, and I think it is an attractive travel content."
Rakuten and Recruit "Regulatory development is first."
iJTB "We do not decide anything about it. JTB offers home stay experiences for school trips."
Q6: What is the most inspired keyword among AI, big data, customer service, inbound travel and private accommodation in the next three years?
Yahoo, Recruit and Rakuten "Big data"
Ikyu "AI as well as big data."
i.JTB "Customer service."
Q7: What you would do if you were Japan Tourism Agency Commissioner with a budget of 10 billion JPY?
Yahoo "Exploration of distinctive tourism resources."
Recruit "Reception development of tourist sites."
Rakuten "Development of Wi-Fi environment."
Ikyu "Penetration of ryokans in the world."
i.JTB "Reduction of transportation fees."
Q8: What is a threat for you as a competitor?
Yahoo and Rakuten "Booking.com"
Recruit and Ikyu "Google"
i.JTB "Yahoo"
Q9: Which international company do you want to move if possible?
Rakuten and Ikyu "TripAdvisor because their value chain is extending, covering contents from before traveling to after traveling."
Yahoo "Booking.com because they invests all of their resources to hotel booking only."
Yahoo Nishida explained, "Yahoo is only a internet advertising company with many different services on vertical axis and payment, royalty points and paid members on horizontal axis. We have recently invested to contents providers, like Ikyu, and if those resources can be multiplied, sky is the limit."
Developing the global strategy by acquiring 100% ownerships of the OTA businesses in Singapore or Indonesia, Recruit Miyamoto said, "We have decided to take one step further into the global business. What we learn from that is how important localization is."
Rakuten Takano said of close of e-commerce operations in Singapore, Malaysia and Indonesia, "It resulted from our selection and concentration strategy based on our midterm business plan with goals of sales of 1.7 trillion JPY and operating income of 300 billion JPY in 2020. However, Taiwan still includes in our global strategy."
For the next step to buyout of activity booking provider Voyagin, Rakuten Takano said, "We are going to provide B2B online services for partners to do smoother businesses, not only for B2C services," referring to minority investment to Xola, the backend service provider for activity.
In Japanese