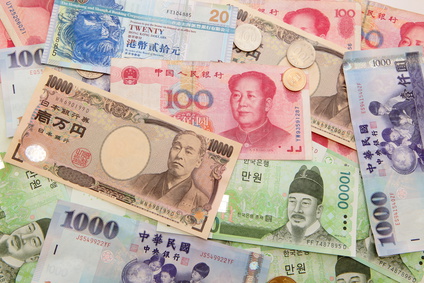 Japan Tourism Agency reported that international visitors' spending in Japan was up 17.8% year on year, reaching 4.4 trillion JPY (preliminary figure) in 2017. The annual result represented the first beyond 4 trillion JPY ever and record-high for five years in a row. Spending a visitor was down 1.3%, reaching 153,921 JPY. 
The graph below shows changes of the number of international visitors and their spending in the past seven years: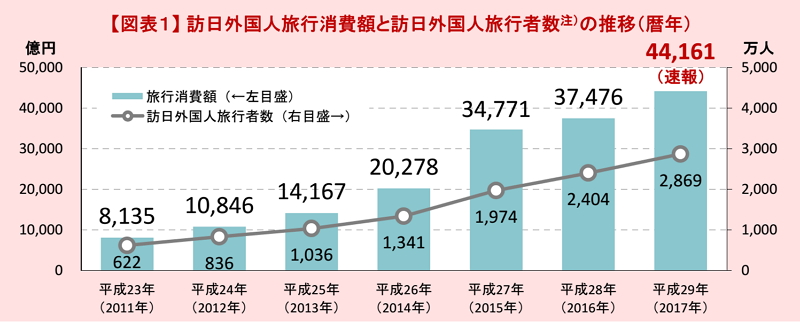 The top market was China with spending of 1,695 billion JPY, which accounted for 38.4% of the total, followed by Taiwan with 574.4 billion JPY (a share of 13%), South Korea with 512.6 billion JPY (a share of 11.6%), Hong Kong with 341.5 billion yen (a share of 7.7%) and U.S.A. with 250.3 billion JPY (a share of 5.7%). A share of the top five markets reached 76.4% of the total. 
In terms of spending a visitor, China was also the top with 230,000 JPY, followed by Australia with 226,000 JPY, U.K. with 215,000 JPY, Spain with 212,572 JPY and France with 212,443 JPY. Among the top five countries, spending a visitor from China and Australia was down year on year, while growths were found in visitors from U.K. (+18.5%) and France (+12.4%).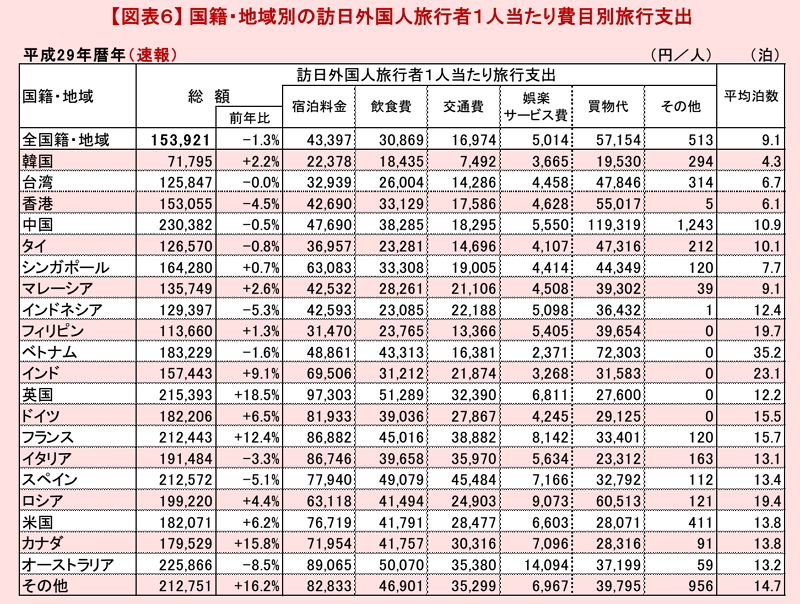 By spending category, shopping (1,640 billion JPY), which accounted for the biggest share (37.1%), and food and drink (885.6 billion JPY) reduced on a year-on-year basis. On the contrary, accommodation (1,245 billion JPY) and entertainment (143.9 billion JPY) slightly increased.