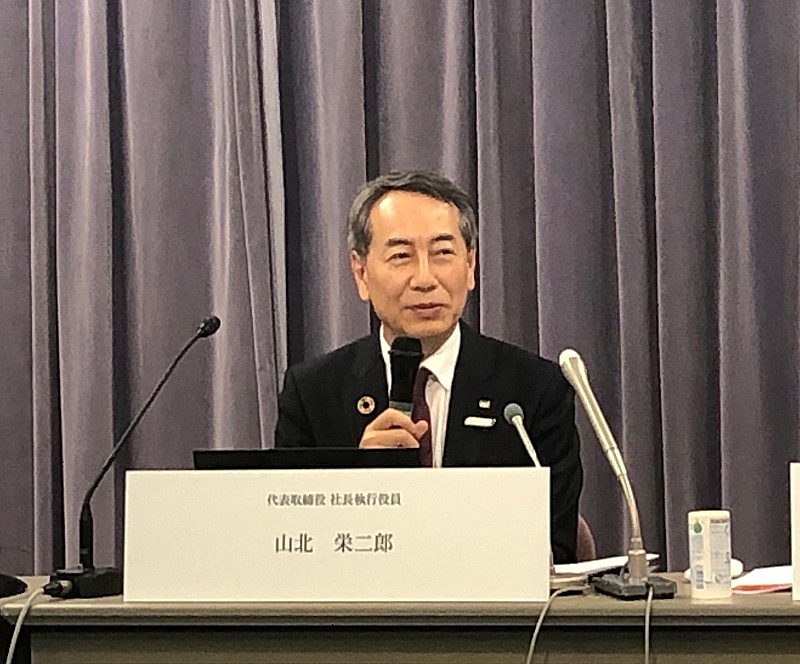 JTB, a leading Japanese travel company, succeeded in making a profit for FY2022 ended March 31 2023 for the first time in the past three years, posting operating income of 33.6 billion JPY (improving from operating loss of 4.9 billion JPY). Sales were up 67.9% year on year to 978 billion JPY, particularly driven by the domestic travel business and BPO. Recurring income increased by ten times to 39.7 billion JPY. JTB posted net income of 30 billion JPY, 5.3% more than a year ago.
For FY2023 ended March 31 2024, JTB has forecasted sales will further increase by 12.8% year on year to 1,103 billion JPY, boosted by recovery of travel demands, but operating income is expected to reduce to 13.4 billion JPY because JTB accelerates an investment plan.
"JTB was damaged by the 7th wave in the first half, but we could see large recovery inn the domestic travel market, particularity supported by a national travel campaign," Eijiro Yamakita, JTB CEO, said. "We also saw recoveries in a variety of business areas, including MICE, BPO, events or trading. In addition, the structure reform efforts helped us improve financial bases."
Strong domestic travel demand, but not yet in outbound and inbound travel
Gross operating income in the domestic travel business was up 91.6% year on year to 91 billion JPY, almost the same level as 93.2 billion JPY in FY2019, as JTB saw a 102% increase in individual travel and a 69.9% in group travel including educational travel.
On the contrary, gross operating income in the outbound travel business was just 11.4 billion JPY, about 10% of 101.8 billion JPY in FY2019. Gross operating income in the inbound travel business considerably reduced to 3.9 billion JPY from 16.9 billion JPY in FY2019, but JTB said that the demand has been right on track since travel restrictions were eased in October 2022.
The global travel business dealing with travels between third-counties increased gross operating income by 3.3 times to 7.1 billion JPY. Although the result was much less than 19.3 billion JPY in FY2019, JTB saw quick recovery in Europe mainly.
Expanding the non-travel businesses
Gross operating income in the non-travel businesses was up 20.4% to 142 billion JPY, more than 112.5 billion JPY for the travel business. It broke down into 24.3 billion JPY for MICE, 89.8 billion JPY for BPO, 14.4 billion JPY for trading, advertising and publishing. Yamakita said, "We could deepen services or products to solve potential issues of individuals, corporations or local communities."
As the structure reform efforts, JTB reduced fixed costs from 240.7 billion JPY in FY2019 to 189.8 billion JPY in FY2022, reorganizing retails or offices and reducing employees. Accordingly, break-even-point of gross operating income lowered from 280 billion JPY to 220 billion JPY, which contributed to the financial recovery.
For FY2023, JTB expects that gross operating income in the travel business will increase by 42.8% year on year to 160 billion JPY, while gross operating income in the non-travel business will decrease by 33.1% to 95 billion JPY because the COVID-19-related BPO may reduce.
No plan to restore employees to the pre-pandemic level
JTB plans to recruit around 450 new employees in FY2024. Yamakita, however, said, "We don't plan to restore the number of employees to the pre-pandemic level. We are seeking business efficiency through digital transformation."
JTB has forecasted that demands will recover to 96% in domestic travel, 92% in inbound travel and 52% in outbound travel in FY2023 compared to FY2019.
"Psychological hesitation of Japanese people for overseas travel will gradually fade," Yamakita said. "I think it is not until the latter half of 2024 that the demand will recover to the pre-pandemic level."
In the inbound travel market, JTB is promoting gastronomy, adventure, sustainability and medical in order to contribute to rise in spending, sending foreigners to local regions and creation of sustainable local community.