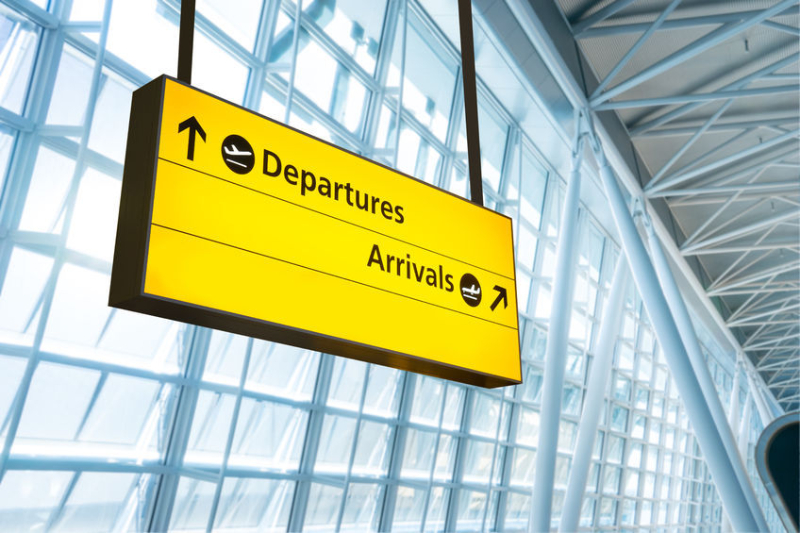 OAG, a world's leading flight data provider, and JTB Tourism Research & Consulting held a joint seminar with a theme of 'Activation of local airports and foresight of the future tourism in Japan' to discuss two-way tourism based on the OAG data and what local airports should be in the future.
Hiroshi Yamamoto, OAG Japan Sales Manager, explained that 114 airlines provide about 125 million seats in total in the 2019 summer schedule, which comprise about 99 million seats by GSC and about 260,000 seats by LCC. The capacity is enough for the government's goal of 40 million international visitors, but not enough for the next step of 60 million, Yamamoto pointed out.
Hiroshi Kurosu of JTB Tourism Research & Consulting said that the goal of 40 million international visitors may be achieved in 2022, two years later than the initial target year, because of the recent low growth rate. "The inbound travel market of Japan will be led by travelers from Southeast Asia and regular travelers with four or more visiting experiences," Kurosu said. "It is necessary for major airports, such as Narita, Haneda or Kansai to connect their international routes with South East Asia to increase first time travelers, and new routes to local airports will be required to increase regular travelers."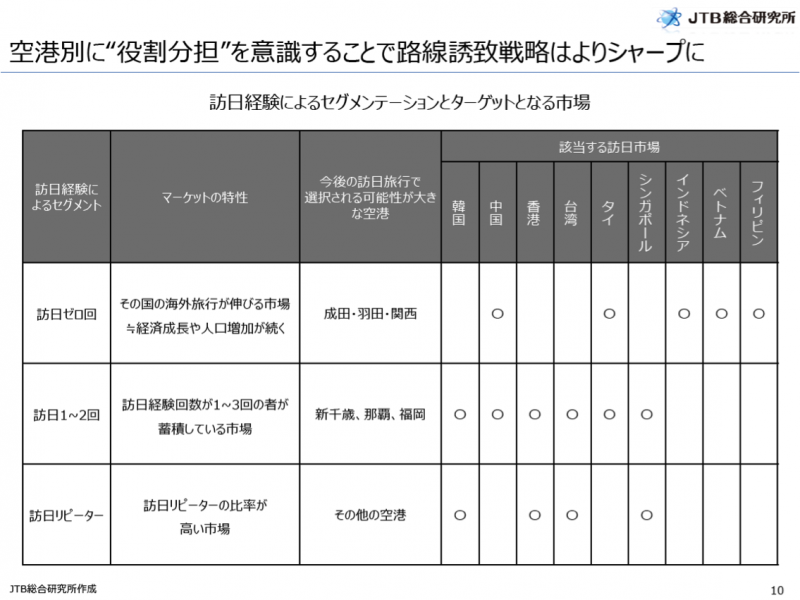 Out of 79 airports in Japan, only 34 are functioned as international airports at this moment, and seven major airports dominate the market.
Based on traffic date in 2018 OAG collected through GDS, Yamamoto said, "Airlines basically see a balance between inbound and outbound traffics to select low-risk international routes."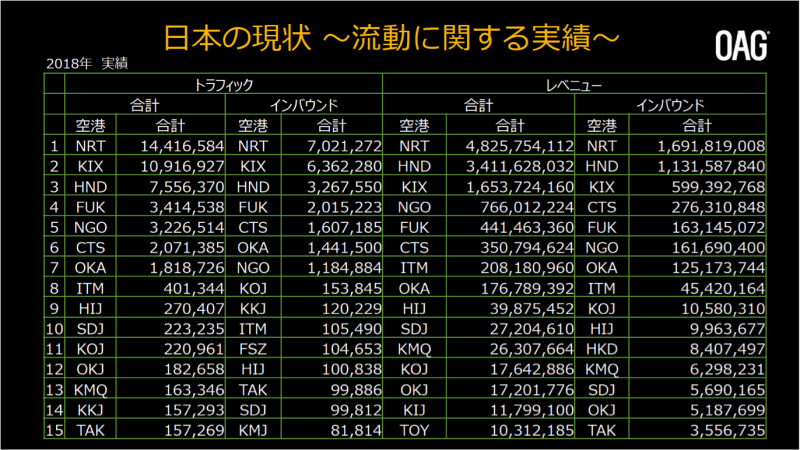 The outbound travel market of Japan has recently recovered or grown further. "Growths of inbound travel and outbound travel are linked today," Kurosu said. "I expect that a right cycle of inbound and outbound travel will be created in the potentially growing inbound for the Japan, such as Southeast Asia particularly. 
In fact, there are market demands traveling from six Tohoku Prefectures to Southeast Asia, however Sendai Airport, a gateway for Tohoku, does not meet such demands because it dose not have routes to such Southeast Asian destinations. Kurosu said, "This is a chance for Sendai Airport to attract new international routes, and the similar cases can be found in other regions." 
Yamamoto explained that Southeast Asia will be the market with higher growth than any other regions, as available seats on Japan routes are expected to increase from 10.66 million today to 16 million in 2028. "It is highly possible for local airports in Japan to attract international routes from economically emerging countries, such as Thailand, Vietnam or India," Yamamoto said. "For that, a local government should plan travel promotions not only for inbound travelers but also for outbound travelers."
Both Yamamoto and Kurosu also emphasized that airlines will see the future potentiality in foreign people living in Japan. Kurosu said that foreign people living in Japan are expected to increase from 2.55 million in 2018 to 4.41 million in 2030, supported by the Japanese government's policy. "Local airports should change their mindsets from nationality to residence when they try to attract international routes," he added. 
Yamamoto also said that Philippine Airlines, for instance, is targeting a local airport with a stably high demand of Filipino residents.