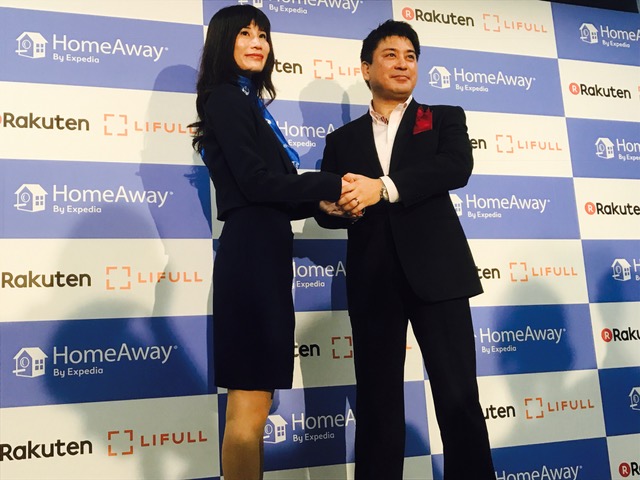 Rakuten LIFULL STAY, the joint venture for vacation rental launched by Rakuten and LIFULL, and HomeAway, the vacation rental platform of the Expedia Group, have tied up for exploration of vacation rental properties in Japan and selling of them to international visitors.
According to the partnership, vacation rental properties on Vacation Stay, the Rakuten LIFULL STAY platform, will be listed on the HomeAway platform as soon as the vacation rental law is enforced in January 2018. HomeAway will provide Rakuten LIFULL STAY with marketing data including travelers' demography or booking trends.
Based on the provided data, Rakuten RIFULL STAY will exploit vacation rental properties nationwide, and the properties may be listed on other sites of the Expedia Group through HomeAway. Munekatsu Ota, President of Rakuten LIFULL STAY, said at a news conference, "HomeAway has expertise to send international travelers to local regions or resort areas. I believe we can work together for an increase in international travelers and also for local revitalization."
Natsuko Kimura, HomeAway Country Manager Japan, revealed that one of the reasons for the partnership is to acquire vacation rental properties in Japan. HomeAway Japan, which was launched in 2016, has only about 10,000 listings at this moment. Kimura also said that the LIFULL's real estate shop network nationwide and its partnership with local governments are attractive for HomeAway.
Details of the business partnership, including commission, will be decided by start of the joint service.
When Rakuten LIFULL STAY was established, Ota said that one of the goals is to transform 5 to 10% of 8 million properties on its real estate information site to vacation rentals in the future. In the ties-up with HomeAway, it focuses on exploration of properties in local regions particularly, and Ota revealed that an ideal composition of listing properties between cities and local regions is half and half. 
Also, Rakuten LIFULL STAY has the future visions for renovation of vacant houses into vacation rentals, launch of a vacation rental consultation service and offering of a comprehensive travel service containing local transportations and activities for enriched vacation rental experiences in the future.