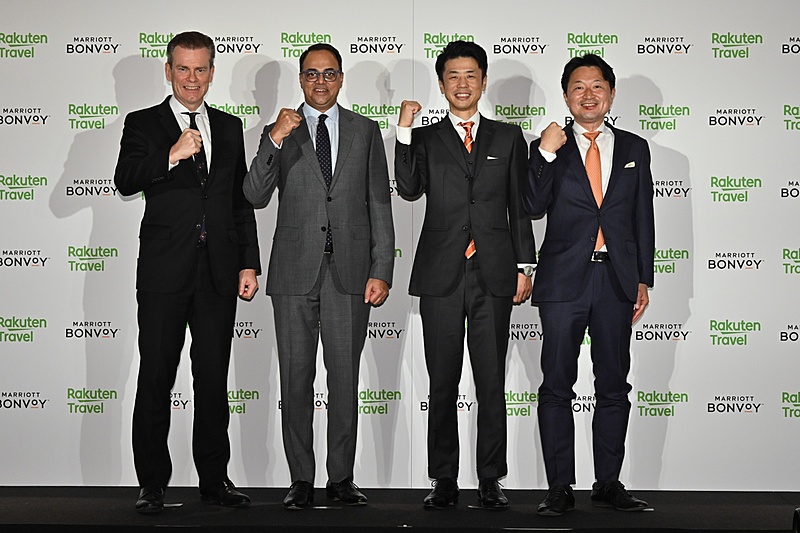 Rakuten Group and Marriott International has officially started a strategic partnership for both of the loyalty programs, following an agreement in October 2021. Through the partnership, Rakuten Travel, Rakuten Group OTA, is encouraging Rakuten members to register themselves to Marriott loyalty program 'Marriott Bonvoy.'
Rakuten Diamond, Platinum, Gold and Silver members are eligible to get Rakuten Points and enjoy a variety of experiences and perks on Marriott Bonvoy, when they book Marriott brand hotels on Rakuten Travel.
"Marriott is developing 'Hyper local strategy' globally. Rakuten is a perfect partner in Japan for the strategy," Rajeev Menon, the President for Marriott International Inc., for Asia Pacific excluding Greater China (APEC), said at a news conference. "We are providing Rakuten members with Marriott's values and contributing to recovery of travel demand."
Yoshiyuki Takano, Managing Director of Rakuten's Travel & Mobility Business, said, "We can extend loyalty to Rakuten members through the partnership with Marriott."
Celebrating the partnership, Rakuten and Marriott will develop a new registration campaign for Rakuten members who complete Marriott Bonvoy registration via Rakuten Travel by February 28 2022, including up to 35% discount of a first booking, 20% discount of a first dining in a hotel, lodging coupons for 120 winners in a drawing.
In addition, a qualification for Marriott Bonvoy Gold Elite member can be eased from 25 nights to eight nights if a new Marriott Bonvoy member from Rakuten Travel stays a Marriott hotel within 90 days after completion of the registration.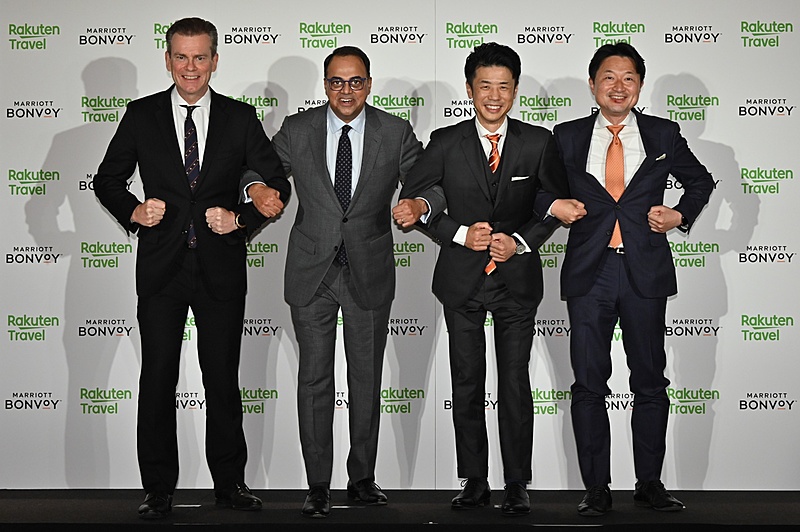 (左から)マリオットのハドソン氏、メノン氏、楽天の高野氏、安田氏
Expecting 'revenge spending' and growth of luxury travel
Menon explained that the Marriott business has been improving globally this year due to acceleration of vaccination and relaxation of travel restrictions, referring to the occupancy rate of 58% globally in the Q3 of 2021.
The good recovery is led by growth of luxury travel. Guests staying in seven Marriott resorts in Maldives in Q3 of 2021 were up 50% compared to two years ago, according to Menon. He added that Marriott sees 'revenge spending' for traveling.
Karl Hudson, Area Vice President - Japan & Guam at Marriott International, expressed his high expectation to 'New Go To Travel Program,' which seems to start in February next year, because the previous Go To Travel boosted the domestic travel demand last year.