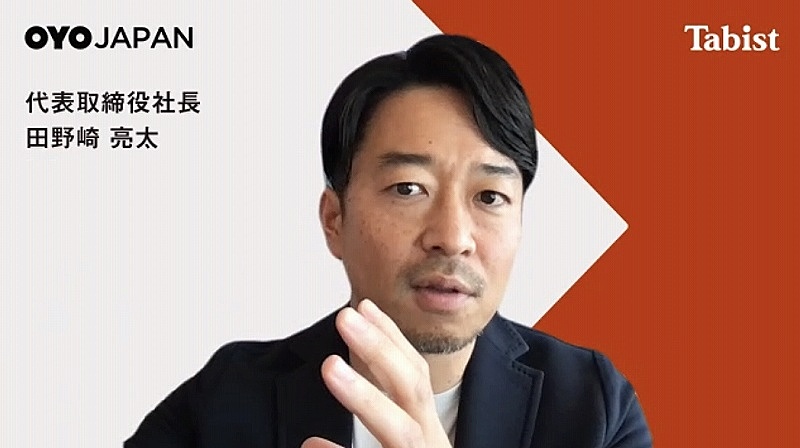 OYO Japan will change its corporate and brand names to 'Tabist,' including 'OYO Ryokan,' on April 1 2022, to shift from a global chain today to a hotel management specializing in Japan market.
OYO Japan was established as a local company of OYO in February 2019 and became a subsidiary of Softbank in June 2021, providing four main values of 'attracting guests,' 'increasing sales,' 'improving productivity' and 'operation agent.'
"We have not pursued what is a brand that is truly loved by guests or whether or not we offer user-friendly website or app," Ryota Tanozaki, OYO Japan President said. "We are going to develop a new branding strategy focusing on change of travelers' behaviors amid the pandemic."
A new branding strategy contains building of a system to take advantage of each accommodation's characteristic and offering of travel experiences enriching guests' lives. Using technologies, Tabist is improving the booking system for a user to find a preferable accommodation more easily and introducing attractions not only for an accommodation but also for a located area.Tabist will release a new app 'Tabist,' which delivers booking opportunities for local experiences as well.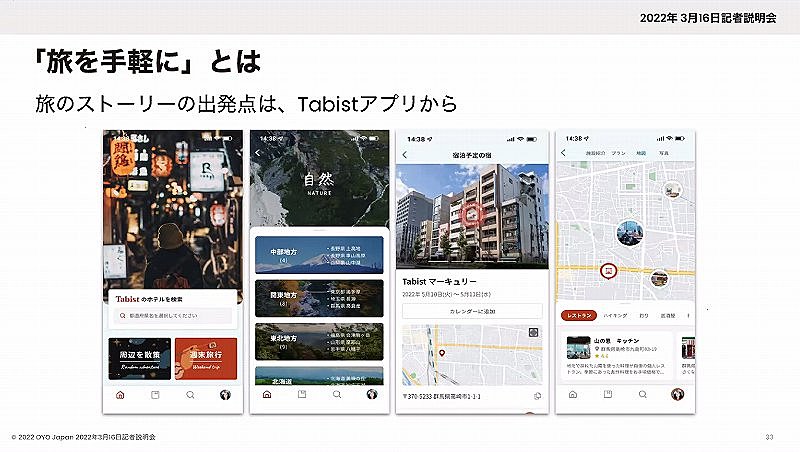 発表資料より(出典:OYO Japan)
"The pandemic has forced us to shift our eyes to Japan," Tanozaki said. "However, a brand to deliver Japanese experiences will surely offer values to international tourists to Japan as well.
Before the pandemic, the ratio of international tourists in partner accommodations was just around 10% of the total. Tanozaki expects that it will possibly double after the border opens, which will contribute to raise the occupancy rate. Tabist has a plan to help each other with OYO global network in sending travelers.
One of the target guests is Millennials
Tabist aims to increase partner accommodations from 235 (about 7,000 rooms) in 43 prefectures today to 300 (about 10,000 rooms) in all prefectures in March 2023. Mainly for small or middle-sized accommodations struggling with low occupancy rate, Tabist will provide a variety of digitalization supports, such as cashless payment or smart check-in.
In addition, Tabist expects to increase registered members from about 100,000 today to 200,000 to extend its engagement with consumers, focusing on Millennials as potential guests as well as 40s or 50s business travelers.
"We can offer easy and comfortable travel for Millennials who are sensitive to cost and prefer things to do," Tanozaki said. "Our partner accommodations can offer different experiences to do."