Telecom Square began offering 'WiFiBox,' a an automatic Wi-Fi router rental service, which allows a user to complete rental steps from booking to return without any human contacts. The rental price is very competitive at 300 JPY a day or more.
"We have offered our communication services for Japanese overseas travelers for 30 years," Yuji Yoshitake, Telecom Square Chairman, explained at a news conference. "The new service is not only to rent a Wi-Fi router, but also based on our long-standing know-how and reliability with sales agents and customers."
Masayasu Tamura, Telecom Square CEO, said, "Smooth communication environment is essential for travel. Our mission is to help travelers enjoy their journeys and achieve their goals."
Developed in tie-ups with US-based SIMO, WiFiBOX is expected to become a game changer in the Wi-Fi rental service. Without pre-setting of a device for a particular destination, delivery of a device and inventory and quality management in a distribution center, the new service successfully cuts operation cost by about 20%.
It is also user-friendly service as a user can easily rent a router only by loading QR code on the box and return a router by push it back into the box. A rental device is only a router with several kinds of USB cables including iPhone Lightning and can function as a mobile battery.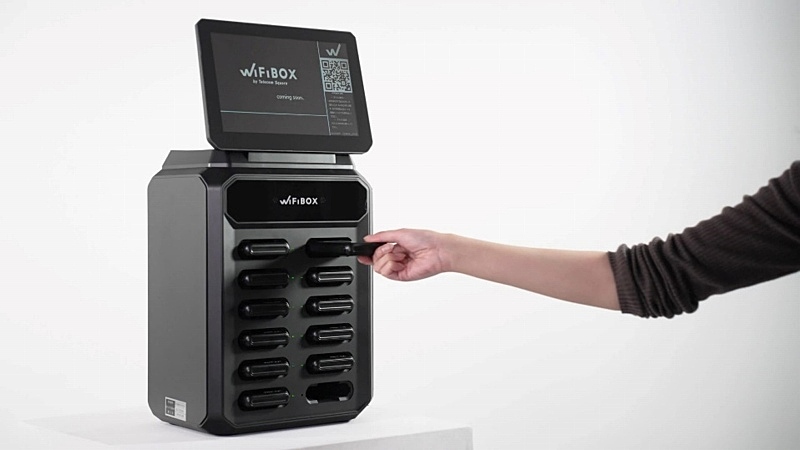 WiFiBOXは2タイプ。写真はデスクトップ型(12口)。タワー型は48個のルーターを格納可能
Eight WiFiBOXs are available in Narita, Haneda and Kansai airports for now, and the company plans to expand the service to 30 places by the end of this year and to 100 places by 2023, not only setting it in airports for both Japanese travelers and international visitors to Japan but also seeking daily life opportunities. Through the efforts, Telecom Square aims to double its market share from 5% today to 10%.