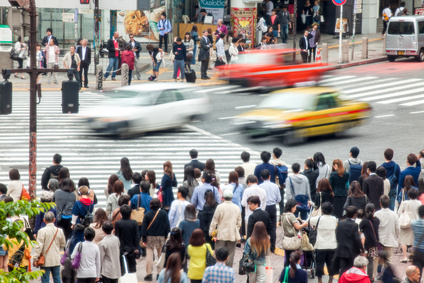 The keyword ranking of major search engine Baidu in China finds that Japan was a nation keyword searched most by Chinese on the engine in and around the big holiday period celebrating the anniversary of the founding of China (August 1 to October 7 2015) with year-on-year increases of 0.2% on PC and of 84.4% on mobile. The second was Korea with year-on-year decrease of 6.3% on PC and increase of 97.7% on mobile.
One of the trends is that searches on mobile skyrocketed, like almost double more searches for Japan and Korea, 108.3% more for U.S.A. or 282.5% more for Pakistan.
The following table shows search ranking by nation:

By city or prefecture in Japan, Tokyo was the top searched city on PC (+1.8%), followed by Kyoto (+29.2%) and Hokkaido (-1.9%), and Hokkaido was the top searched prefecture on mobile (+30.2%), followed by Tokyo (+171.8%) and Kyoto (+132.7%). It is remarkable that accesses for Hokkaido on mobile were about six times more than those on PC. Also, the big growths on mobile were found in Kanagawa (+471.3%) and Aichi (+383.3%).
The following table shows search ranking by city or prefecture in Japan: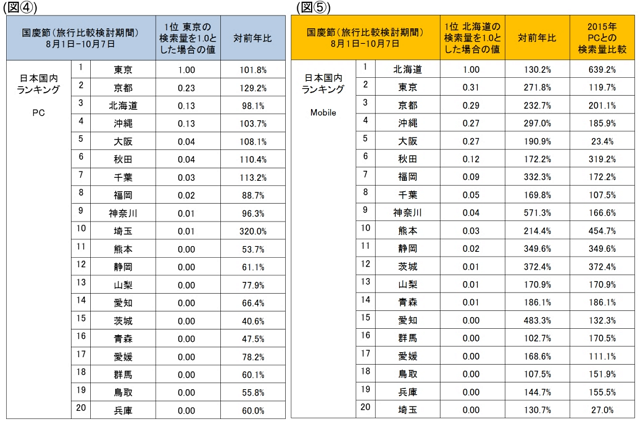 The search trend also showed that interests in traveling to Japan had increased since more than one month before the big holiday period. According to the result, Baidu said that it is important for the travel industry of Japan to pay attention to pre-departure market approaches, mobile services and decentralization of tourists.
In Japanese