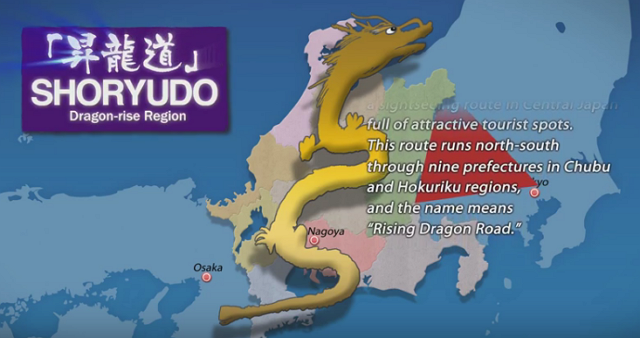 Nagoya Railroad or MEITETSU has expanded its promotional activities for foreign travelers to introduce MEITESU Group services and tourist attractions along 'SHORYODO or Dragon Route' in Central Japan.
SHORYODO is a south-to-north tourist route across Aichi, Gifu, Toyama and Ishikawa in the Chubu region. The route is named after dragon because it looks like mysterious climbing dragon with its head in Noto Peninsula.
As the first step of the promotional campaign, MEITETSU has begun delivering its original movie on YouTube and MEITESTU website since September 30 2015. The movie shows that a foreign traveler arriving in Central Japan International Airport enjoys traveling SHORYUDO, experiencing local cultures and tourist spots and shopping at MEITESTU department store.
Chinese (traditional and simple), Korean, Thai as well As English are available on the movie. Also, MEITETSU has started providing TV CM on Channel Japan, which is managed by Nikkei TBS Smart Media, in 16 countries and regions in Asia including China, Taiwan, Indonesia or Philippine since October 4 2015.
The CM features winter attractions over the SHORYUDO area in three themes of snow, seasonality and pleasure in English, Vietnamese and Thai.
In Japanese